An Interview with Karen @welliesandwaffles
Today we have a very special interview with Karen from WelliesandWaffles the passionate & successful Kitchen gardener. Karen has featured in both Kitchen Garden Magazine and also Grow your own Magazine; she has a large following on Instagram,  Facebook and You Tube. She loves to share her growing successes, trials, and errors (not many of those) and her top hints and tips, She is also the proud owner of both our Chester & Cooke Seed Box & Garden Tool Rack, she also has her own personalised Garden plaque to display in her shed.
I just love how refreshing joyful and colourful her posts are, and I am sure you will too.
Before we get into the Q&A, I'd like to share with you my favourite quote from Karen @welliesandwaffles :
"There's nothing like the feeling of going outside and picking the produce, you've lovingly grown from seed."
I think if you're reading this blog, you may be a garden enthusiast and can really relate to that quote. The feeling of sowing a seed, the thrill of watching it sprout and grow, nurturing it, tending to it each day, and then eating it or enjoying its wonderful blooms is a very special feeling, even the most experienced gardeners still get that thrill and enjoyment seeing and tasting the fruits of their labours.
Let's see what Karen has to say about her gardening passion.
When did you become interested in gardening?
I think when I first bought my own house. I created some raised beds and started growing peas, raspberries, and flowers. Then when I moved to where I am now the house had a large garden which I was able to develop half of it into a vegetable garden and orchard, that's when my passion really took off.
How did you grow and develop your knowledge in gardening?
Trial and error mainly. Seeing what worked for me in my garden with the climate we have. I also do a little research into the varieties that I am growing to get the best out of them.
What got you into social media and inspired you to post?
I think initially it was just to document what I was growing so I could see what I sowed when, what worked, what didn't and to see the progression. Then it developed more and more into hopefully inspiring others to join in and give it a go, show what can be done and the boundaries that can be pushed into what can be grown. I love inspiring others with varieties that you don't tend to see in shops and seeing others try new and exciting produce is a great feeling.
4. Where does the name welliesandwaffles come from?
I'm near enough always in my wellies in the garden apart from sometimes in the summer months when I'm trying not to get a welly tan line. The waffles comes from me waffling on about growing fruit and veg. I could do so all night long and I tend to.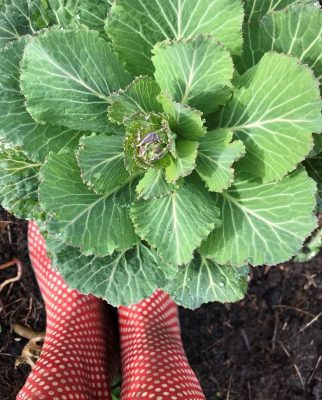 Karen's famous wellies !
If you could give your younger inexperienced self 1 tip or piece of advise, what would it be?
Stop over-sowing. I tell myself this every year but I never listen and I always end up getting too excited and sowing too much.
What do you love about your Chester & Cooke seed box?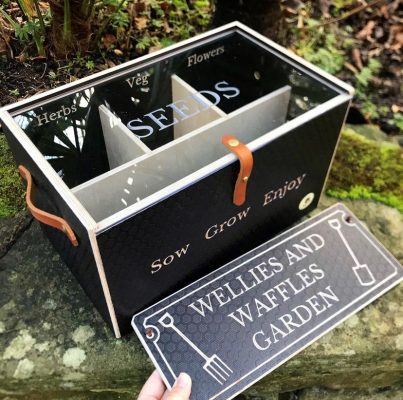 Not only had it got a great amount of storage space for my ever-increasing seed collection but it looks amazing! It feels more than a Seed Box, it's not one to be tucked away and hidden as it's a beautifully designed box. So much so I have it on a shelf in the kitchen for all to see.
What are your 3 favourite varieties in your seed collection & Why?
This is difficult as I love so many. But I'd have to say Sungold tomato seeds because so far they have been the most delicious tomatoes I've ever tasted and the most prolific. My next choice would Crystal Lemon cucumbers. They're round yellow cucumbers with a lovely sweet, fresh cucumber flavour and they look fantastic. The last would-be peas, the main crop I grow is Hurst Green Shaft. It's never let me down and you can't beat sweet fresh peas picked straight from the pod. My children love to go and pick and eat them there and then in the plot, hardly any make it back to the house.
Do you get surplus supplies of crops/produce and if so what do you do with it?
I don't tend to have surplus but when I do they tend to go to friends and family. I did start growing a lot more last year to start to provide for food banks but the slugs put a stop to that. This is something I'd like to continue with and hopefully win the battle over the slithery beings.
I see you love to experiment with weird and wonderful varieties such as in you '12 weird tomatoes' You Tube video. – Do you also like to experiment in the kitchen with all your produce?
I went even more overboard and ended up growing 22 varieties!
Yes I love to experiment in the kitchen. From roasted squash with cherry & blueberry syrup, feta and cumin roasted pumpkins seeds to pistachio, lime and courgette cake. When I bake a cake now my children ask me if I've put any vegetables in there.
10.You have a Chester & Cooke Tool rack to store your gardening tools, what do you like about it?
It feels like a substantial addition to my gardening accessories as it feels solid and well made. I mean you might as well give your tools a good home as well as your veg eh!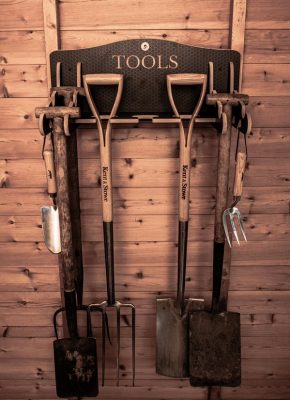 What is the one gardening tool you couldn't live without?
It would be a trowel. I've a Hori Hori trowel knife which digs well and has a serrated edge to one side for cutting.
12. Do you have any goals or achievements you want to achieve with your gardening, or do you enter competitions?
I don't enter any competitions, but a goal would be to create a community grow your own garden so that everyone can enjoy homegrown produce and see how it is grown. That and also being on Gardeners World of course !
Do you try and be environmental aware with your gardening? What steps have you taken and are there any changes you intend to make?  Are there any hints that you would like to share with our readers to help with being environmentally friendly while gardening?
I only use natural organic plant foods and even make my own nettle and comfrey feeds.
I stay clear of chemical slug killers, I don't like the idea of the chemicals leaching into the soil and into the food. Also this could poison animals that eat the slugs for example toads, hedgehogs and birds. My method is just going out and collecting them all in a pot, taking them over to the far end of the garden and releasing them there. They probably come back though as there's so much tasty food on offer .
My pots I've had for about seven years and I wash and reuse. There are so many recycled and recyclable pots available now and alternatives like bamboo if you were starting out but don't throw away all your plastic ones just to replace with environmentally friendly ones. Just keep reusing the ones you have already seen as you have them and then replace when absolutely necessary.
Do you encourage nature in the garden and how do you balance this with keeping the pests at bay?
I encourage nature in a few different ways, one being that I've been sowing and planting lots of flowers to attract bees and other pollinators. I have also installed a bug hotel to provide with them a lovely abode.
I also have a lot of toads that visit every year. At certain times the lawn is awash with the tiniest baby toads. They all help in trying to keep the slug and snail population down.
I also have bird feeders and a birth bath which the feathery friends love. There is a resident pigeon Bob who likes to look at me through the window whilst he eats all the smaller birds food. I'm not sure if it's a cheeky glint in his eye or whether he's just wondering if I'm going to go out and stop him.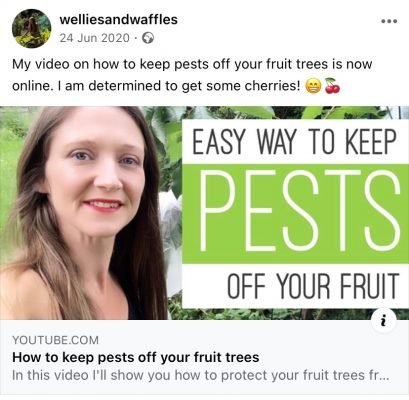 Thank you, Karen – Wow we have sure learnt a lot about you here, Thank you, for such an interesting insight into your gardening passion. We wish you ever luck for your future goals, a community, grow your own garden, sounds an amazing idea, and yes donating surplus to food banks is a winner, Lets hope you can keep those slugs at bay.
– I always wondered what the waffles was about, I thought you might like eating them.  But it makes sense now. I just love your passion for trying new things and your ethos in the garden, you have really given us some great advice and guidance here. You might have to give me that recipe for the nettle and comfrey feed, that sounds brilliant.  I have plenty of nettles I could use.
We are so pleased you are so thrilled with your Seed Organiser & Tool Rack, yes you are right, it is great to give our tools a good home. We always get compliments over the quality and beauty of our Seed Storage box.
If you enjoyed this interview/blog please sign up to our newsletter so you don't miss any future blogs, offers or competitions. Next month we will be looking at being Eco-friendly in the garden. Karen has given us some great tips and hints, such as reusing your plastic pots, like we encourage with our Herb Planter kits.
As Karen has shown attracting nature into our gardens is a great form, of pest control too, I love the idea of all the toads leaping around eating those slimy slugs.
Also remember we run a customer of the month draw each month where all customers who have purchased that month will be entered into our draw.  I have an exciting eco-friendly gardening prize for June plus one of our Chester & Cooke products to give away, which I tailor to the winner.
Please follow Karen on Instagram, Facebook or YouTube using the tag @welliesandwaffles for great hints and tips and to watch her passion and inspiration for gardening and cooking with her produce. She will be showing off our Tool Rack and Seed Box on a video shortly, both are great gifts for Father's Day coming up. So keep an eye out.