.A Wall mounted welly rack is a must  – If you are the sort of person who has a collection of welly boots, or country boots branded because it shows your fashion and style, keeping them in style, on a wall mounted welly rack must also be your priority, but that's not the only reason…
Keep Your Boots in Style with a Wall mounted Welly Rack.
If you are proud of your welly or country boot collection and love to show off your country style.  There is no better way to show them off than on a wall mounted welly rack.  However it is important that you get the correct one.
Getting a Rack that is wall mounted that can be hung in an entrance hall or Boot room will be essential so it can show off all those important brand names. A wellington Rack that is on the floor with the boots turned upside down or is under a seat or in a cupboard will not show off your beloved collection.
You can have wall mounted welly racks that store them on a slant, like below, but these will not show off those labels and all you will be faced with are the soles, so lets face it not very aesthetically pleasing.
If you really want to show them off, have them wall hung at approx shoulder level on a Wellington Rack by Chester & Cooke. These are amazing quality, our reviews really do back up this claim, check our Trust Pilot reviews out here.
The boots will be facing outwards to show off all those gorgeous brand names.  The soles are hidden by a shelf (if this option is chosen) and the carefully engraved wording of wellingtons just oozes elegance.
Make your wall mounted welly rack unique
If you love having your boots on show or love to have your home unique you may want to get your wellington Rack personalised.  At Chester & Cooke this really is our passion.  I love to create bespoke welly racks with your house name, family name you may even choose a quirky phase or some thing memorable. – Check out my blog about personalised home decor here to get some inspiration.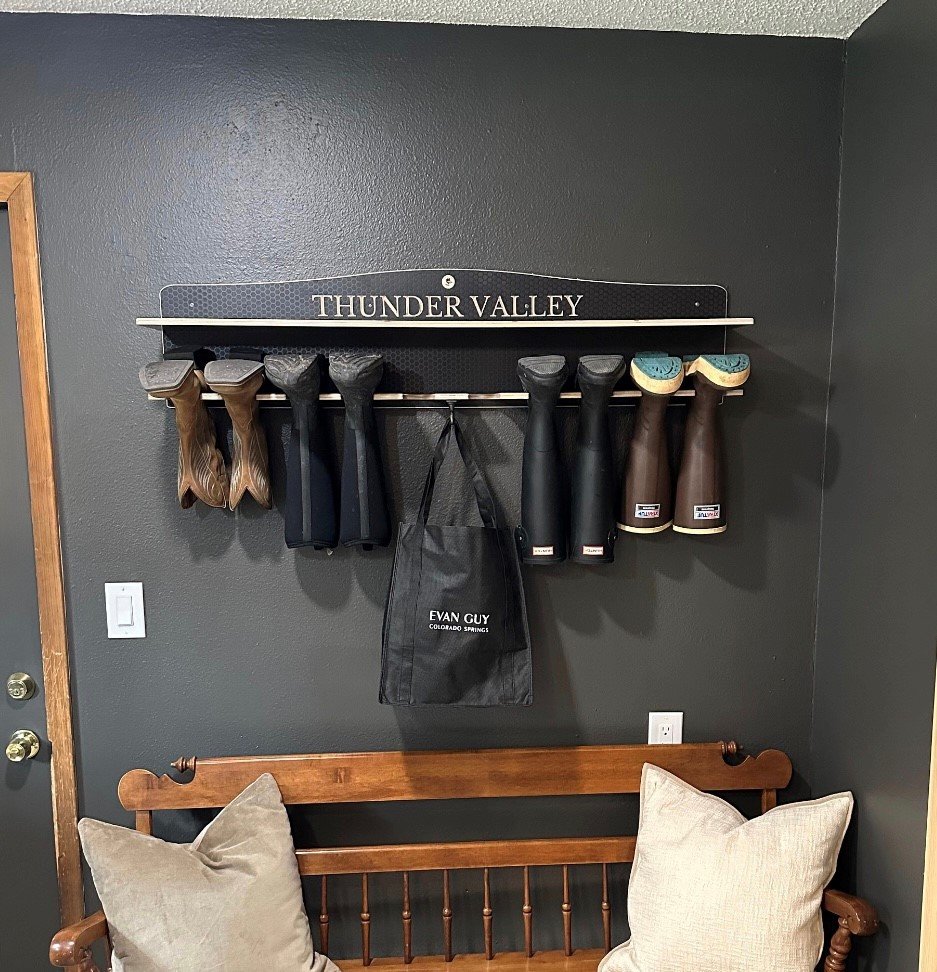 A practical reason to have a wall mounted welly rack.
If you love your wellies and especially if they are branded you have most probably paid a lot for them.  Lets face it if you use wellies most days they are a real investment.  Therefore you want them to look good all the time which means you need to look after them.
So my next reason that it is a must to hang wellies on a wellington rack is that is it imperative we store our wellies correctly.
The rubber on welly boots will start to perish is if they are exposed to sunlight and extremes of heat or cold. Therefore, storing them on a Wellington Boot Rack, will keep them out of the harsh sunlight and at a suitable temperature. For those of you that like to leave them in the car ready for the next dog walk be aware of those cold nights in winter. Your wellies will not thank you for being subjected to extremes of temperatures, so bring them in and keep them in a warmer environment.
The main cause that Wellington Boots can deteriorate is if they are left in a pile on the floor. Have been stuffed into a bag or cardboard box and become bent or twisted.  They can crease which can cause the rubber to start weakening, crack or start to perish the rubber. Even if your boots are flat on their side, the angle the foot compared to the length of the boot on the floor will cause an area to weaken. Storing your wellies hanging from a welly rack, so the full length of the boot is free from creases will prolong the life of your boots. The same will apply to leather country boots.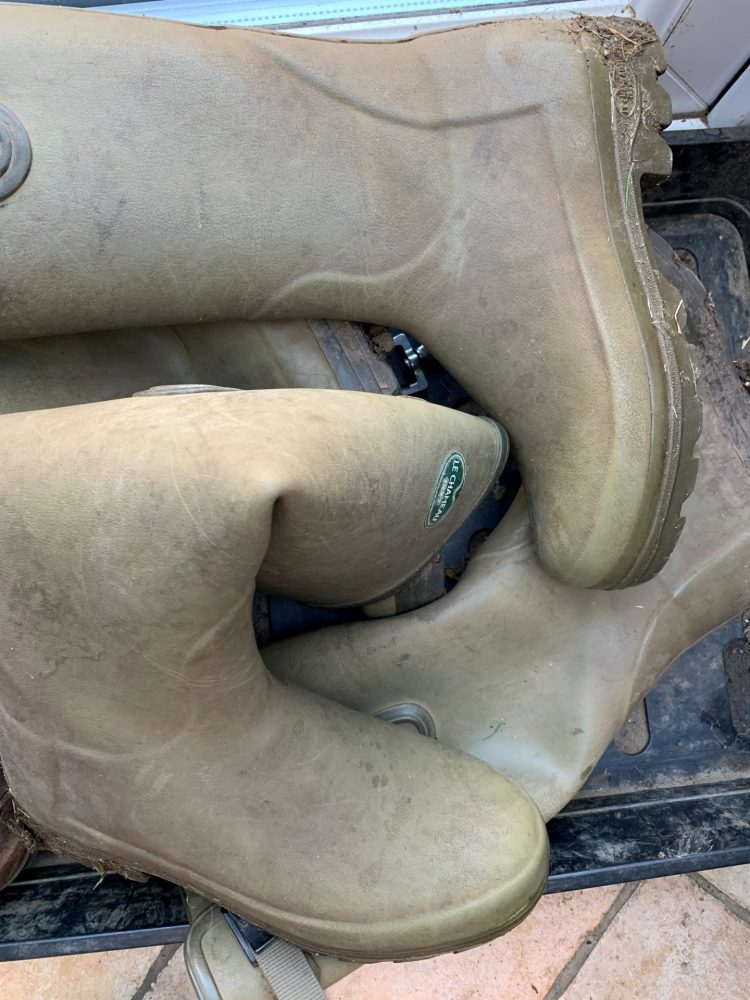 ,
A Welly Rack can help with daily boot care.
Hanging your wet wellies up is a great way to dry them after use. It's advised to give them a wash down after use.  If you have been to the seaside, salt and wellies do not mix and will cause horrible streaking so washing them is really important.
I use my wellies every day to do the horses.  In winter they are always covered in mud. I have a bucket that I dunk my feet in before I come in which makes life so easy. I then just hang them up to dry.  Putting them on a Wellington Rack will keep any mud you missed contained.  It stops your floor or boot area becoming a mess. It will allow them to be in a position that they can dry off. Instead of them being stuck to each other. Remember if you got them wet inside use some old newspaper to pad them out.  This will help dry them off.
Our Wellington Boot Racks can be purchased in different sizes from 2 pairs to 5 pairs. You also have the option of a shelf.  They come with the standard engraving of Wellingtons, or the option of personalisation. They start at £55 and can be purchased here.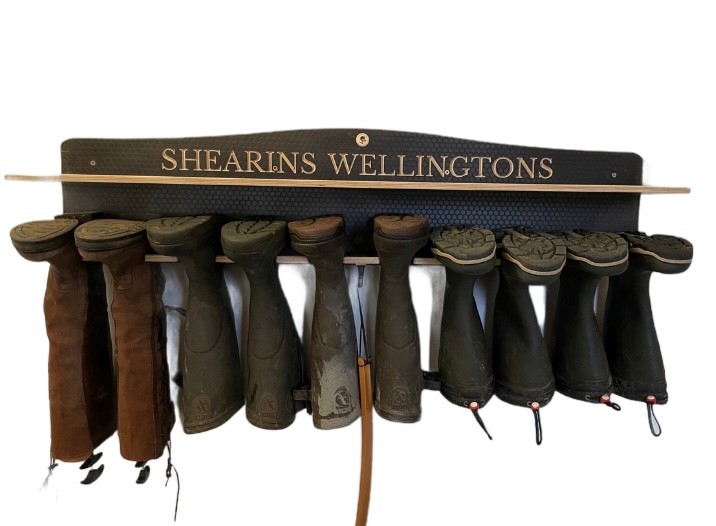 Boot Jacks
While we are talking about taking care of your wellies.  Another tip is to take care how you remove them. Prizing them off on the back step or with your other foot can cause stress to the heel.  This can lead to splitting of the rubber. Use a boot jack this will be much kinder to your wellies.  It alleviates that stress to the rubber on the heel & not to mention your back. Check out our blog – 5 reasons to use a Boot Jack for other reasons why they are a great item to have to hand after a walk.
Our Boot Jacks have a handy leather strap to hang it from your Welly Rack.  This means you will always know where it is.  We have also designed it to have a children's wedge so they can also take their boots off with ease.
Our Boot Jacks are £21.99 and come with 15+ different designs for you to choose from. You can purchase a Chester & Cooke Boot Jack here. They are great presents for Grandparents and for any dog owner or country lover. We can also personalise these at an extra cost too.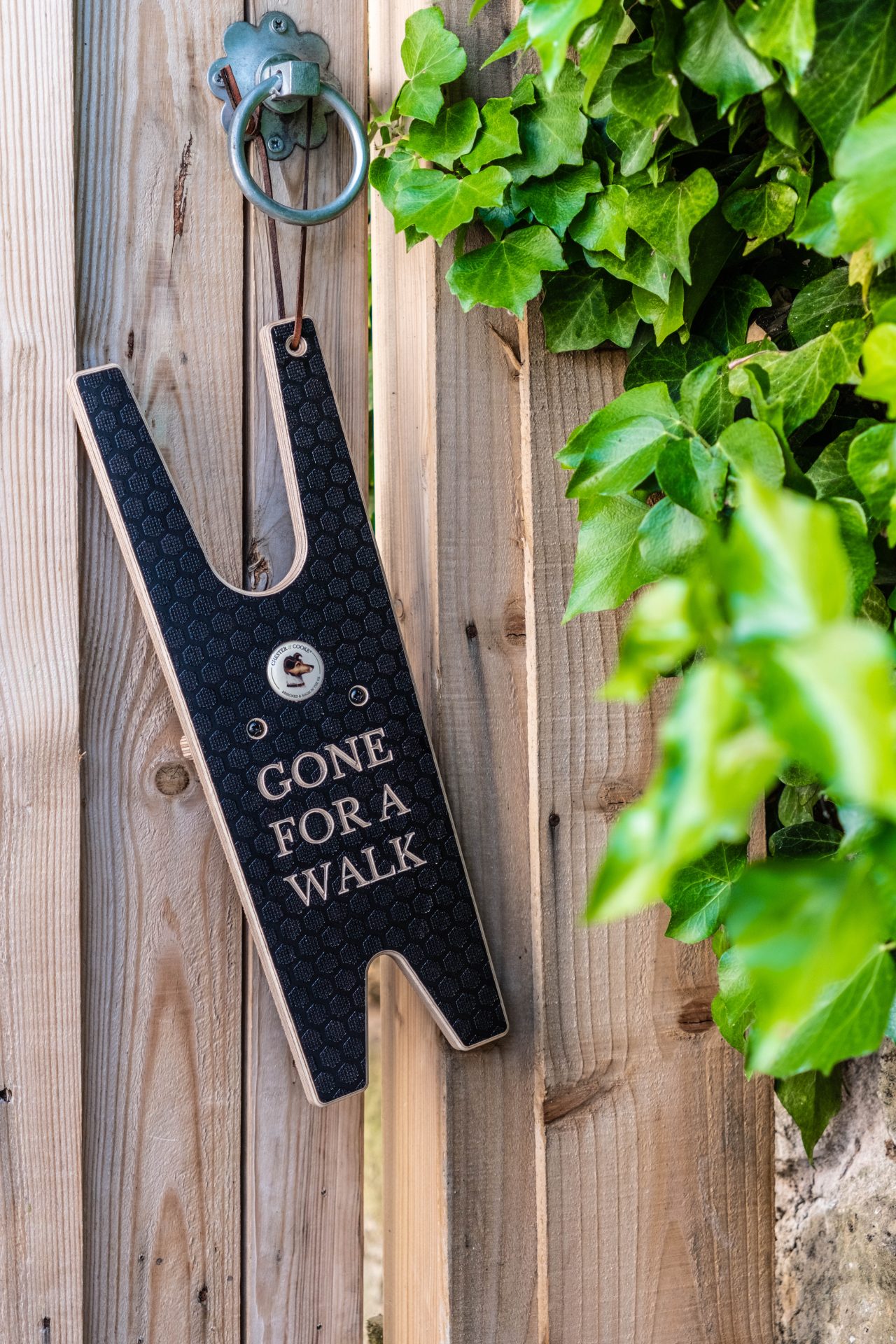 Conclusion
I hope you have enjoyed reading my blog answering your question. Should I store my boots on a wall mounted welly rack? In summary Yes 1. to show off your wellies in style, 2. To make your home unique and 3. To keep your wellies in good condition. But as I explained getting the right type of wellington rack is imperative.  To achieve these goals you can get your Chester & Cooke welly rack right here.
If your still not convinced.  Check out our gift set of a 2 pair welly rack and Boot Jack gift set. This will save you some money, they start at £62.99 and they can be purchased here.
Thanks for reading         Liz x