When choosing a gardener's seed box, it's important to consider several factors that can help you organize and protect your seeds effectively. Here are ten things to look for in a gardener's seed box:
Size and Capacity of the Gardener's Seed Box
Ensure the seed box is large enough to accommodate your current seed collection and has room for future additions. Consider the types and quantities of seeds you plan to store. Does the seed Box have room for oversized seed packets? I have designed this seed box so it is one of the largest on the market, lets face it most gardeners have a large seed collection, so it has to be able to accommodate lots of packets of seeds.
Material
Choose a durable and weather-resistant material like wood, plastic, or metal. Wooden boxes are attractive, while plastic and metal options are often more waterproof, But also think about heat transfer. Metal seed boxes will heat up in warmer weather, and not maintain a stable temperature.  Wooden seed boxes are more able to keep a constant temperature rather than conducting heat which is the case with metal. Wood will have insulating properties to help keep the viability of your seed collection.
I designed the Chester & Cooke's Gardeners Seed Box from wood coated in a waterproof membrane which protects the seed box and is water resistant. Yet it has the benefits of being an insulating material.  I wanted to avoid designing it in metal due to his heat transfer properties.
You can Shop Seed Boxes HERE
Does the Gardener's Seed Box have compartments & Sections
Look for a seed box with internal dividers or compartments to help you organize and separate different types of seeds, making it easier to locate what you need. Its really important to be as organised as you can be with your garden.  There is a lot to think about when gardening, with crop rotations, where you planted what bulbs or what will sprout up from where. You want your seed box to have the ability to get you organised as possible. Its a must that it has some dividing sections, But ideally labelled sections too. To help with your organising.
A tin of tens of packets of seeds where you have to go through them each time isn't helpful. You also run the risk of them going out of date or missing vital sowing months.
The Chester & Cooke Seed Box has 4 separate sections. 3 are labelled with Flowers, Herbs and Veg and the front compartment is large enough for oversized packets to go on their side. So at the very least you can organise your packets into these sections.
Organising Divider cards 
Opt for a box with labeling options such as index cards, label holders, or blank spaces for writing. Proper labeling is essential for quick and easy seed identification. You can organise your seeds into the months they need to be sown, colours, varieties or you may prefer some other method.
I have designed 2 types of divider cards that can be used with the Chester & Cooke Seed Box. The 1st set are for the 3 compartments. 1 sets has the months added and the other 2 are left blank for you to write your own organising preference.
You can purchase these cards separately HERE.
The 2nd set of divider cards is for the front section. The tabs are left blank for your own organising.  This set also comes with a garden planner. You can order front divider cards HERE
These sets can be purchased separately or as a gift set. Including  the smaller divider cards with the Seed Box and 2 sets of seed harvest envelopes. This gift set is £78 saving you £5. You can purchase the gift set HERE 
2 sets of seed harvest envelopes are included in the gift set. (12 envelopes per set.)
You can purchase Seed Harvest envelopes HERE at £5.50 a set.
Airtight or Moisture Control
Some seed boxes have an airtight seal to keep moisture out. Alternatively, some boxes have moisture control features like ventilation to prevent mold and moisture buildup. As I know lots of people do collect there own seeds, I decided to design my box without being 100% air tight.  If you have harvested your own seeds and their is any moisture this will lead to mold.  I wanted to prevent this so a firm but not airtight seal will allow any moisture to escape.  This together with the Silica Gel Sachets which are included with your box will help keep your seed collection in tip top condition.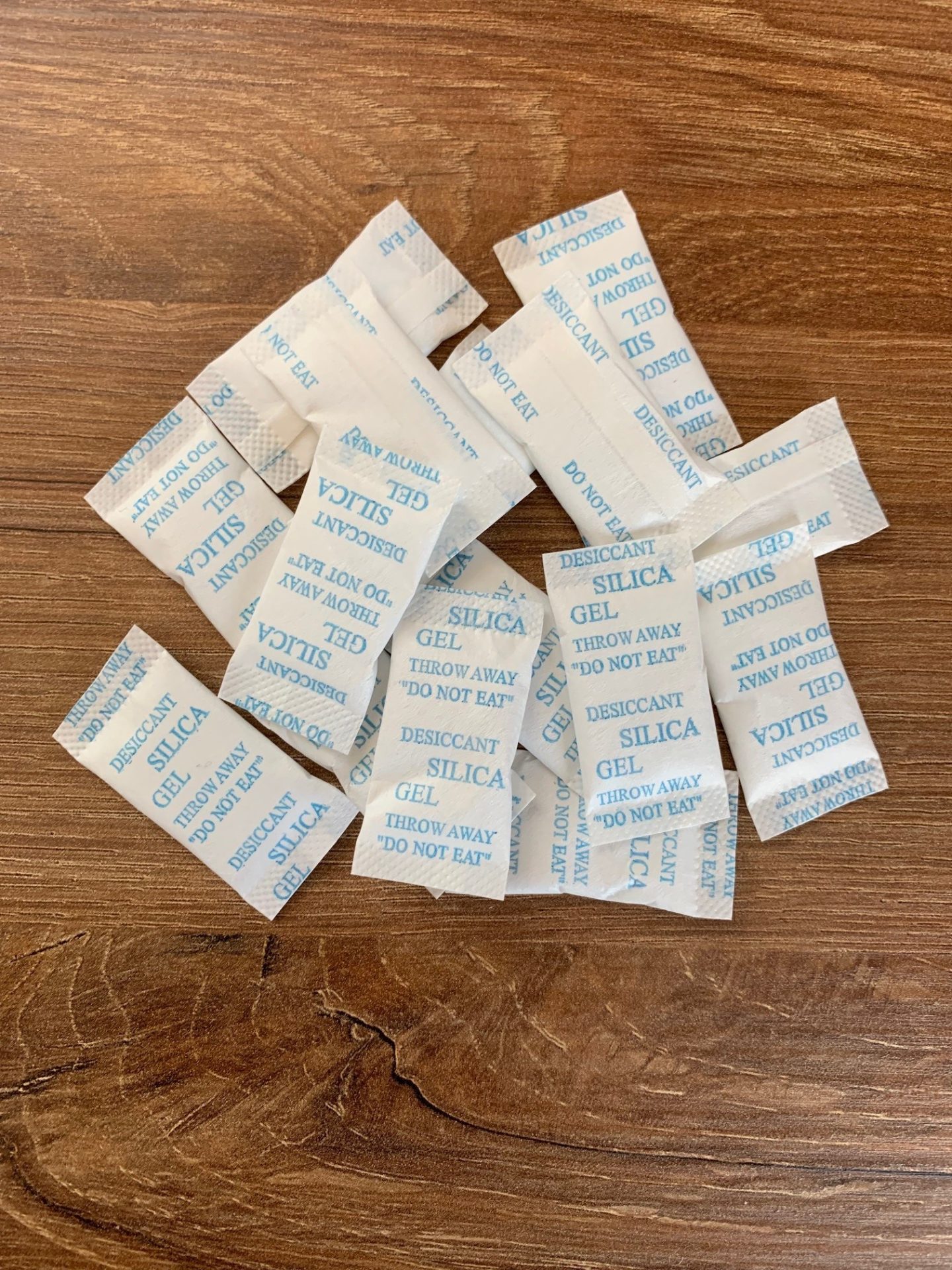 Does the Gardener's Seed Box provide protection from pests
Look for features that protect your seeds from pests. Make sure your Seed Box is made of sturdy material that little visitors to your shed, garage or potting shed can't gain access to your seed collection.
Durability – A Gardener's Seed Box is an Investment
Ensure the box is well-constructed with sturdy joints, quality fixings and durable hardware to ensure it withstands regular use over time. This is an investment so it needs to last.  Your seed collection is your passion, your Seed Box will be your pride and joy.  Something you will love and cherish.  When you are in your happy place out in the garden, or even when you are planning for the months ahead, when you use your Seed Box you want it to last and always give you that emotion of love and joy. You will have many happy memories associated with your seed storage Box so buy the best quality you can.
Portability
If you need to move your seed box around the garden or greenhouse, consider one with handles.  Our Chester & Cooke seed Box has beautiful leather handles to make it easy to carry. I have also sourced an alternative to leather for our vegan customers.
Fastening Mechanism
If you want added security, choose a seed box with a lock or other fastening mechanism to prevent it coming open.  I have purposely designed the seed box lid with a brass screw which needs a little pressure to shut it. This feature prevents it sliding open if you forgot to do up the leather catch.
Aesthetics – As a passionate Gardener your Seed Box will be your Pride and joy.
Consider the appearance of the seed box, as it should complement your garden or greenhouse's overall style. Choose a design and finish that you find visually appealing. Our Seed boxes at Chester & Cooke have lost of beautiful engraving, Seeds on the lid, Sow, Grow and Enjoy on the front and the sections are engraved internally with Flowers, Veg and Herbs each of these areas can be personalised.  This make the Seed Box extra special and meaningful and a really wonderful way to give a thoughtful present.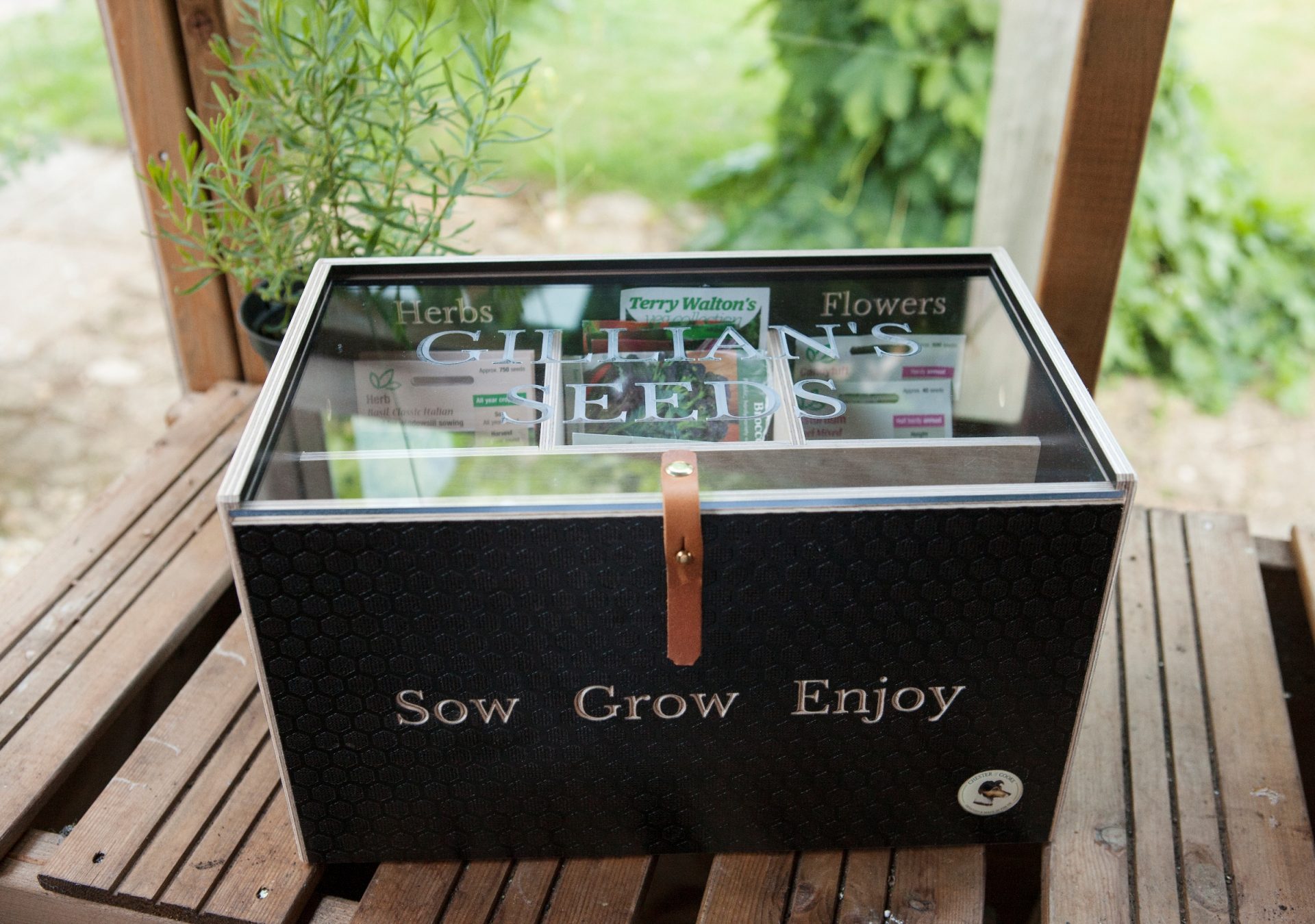 You can shop all Chester & Cooke Gardening products, and country living products HERE.
Do you want to achieve blooms all year round in your garden.  Download your free planner HERE
Remember to store your gardener's seed box in a cool, dry, and dark location to preserve the quality and viability of your seeds. Proper organization and maintenance will help ensure your gardening endeavors are successful.