Get  inspired – Here are your gardening jobs for April.
So how is your garden looking? I really enjoyed seeing the Hellebores Bloom in March, and now we should have the joy of all these gorgeous bulbs coming to life.  Well I said it didn't I. We can still get snow in March and we did. Still be vigilant in April, we are not in the clear yet.
Gardening jobs for April – Pruning Hydrangea, Buddleia & Lavender
Hydrangea are a wonderful summer flowering shrub. And care now will help you get the best from them. Early April is a suitable time to prune the common Hydrangea,  they usually have flowers which are pink or blue, but also white. If it is established, prune down to a bud or a pair of buds and cut out about a third or a quarter of the woody older growth each year to make room for new growth.
If the Hydrangea isn't very old and has been recently planted, allow for it to get more growth before you prune.   
Gardening jobs for April – Tidy your shed and Tools
As things are starting to kick off in the garden, now is a great time to have a spring tidy of your shed. And make sure it is still in good working order, giving you an opportunity to make repairs.
1st things 1st…
Remove everything from your shed. Sweep it out and remove cobwebs, check over your shed from the base to the roof.  Make an assessment of any repairs that may be needed, and get those repairs organised.

Design the layout of your shed. Do you need a potting bench here? If you don't already have some, measure your shed up for some shelving units.  These will make your life so much easier. Have a think where larger items such as your lawn mower will live.

Fit a Tool rack to ensure your tools are all neat and tidy and you will always know where they are. I have designed a great space saving rack which comes in small, medium or large sizes and holds your usual garden tools but also has room for hand tools too.  My Tool rack can also be personalised to make your shed into your garden hideaway.  You can purchase them here.
Now your organised
Check over your tools to ensure they are in good working order. Hopefully you have cleaned it well after each use as this helps keep them in good condition and rust free.
Sharpen your garden spades – this is a great resource to help you.
https://www.gardendad.co.uk/how-to-sharpen-a-garden-spade/#:~:text=Once%20you%20have%20completed%20sharpening%20your%20garden%20spade%2C,oil%20and%20wipe%20it%20gently%20over%20the%20blade.
Then oil them with a cloth, to help protect them from rust.
If you love to feed the birds and store seed in your shed make sure this is stored in mouse proof containers. They will love to make a new home in your shed. Placing a trap or 2 down will also help this problem.  

If you store your wellies in the shed get these out the way too by storing them on a welly rack.  Our 2 pair welly rack is the perfect size for the back of the shed door. This can be bought as a set with one of our boot jacks here.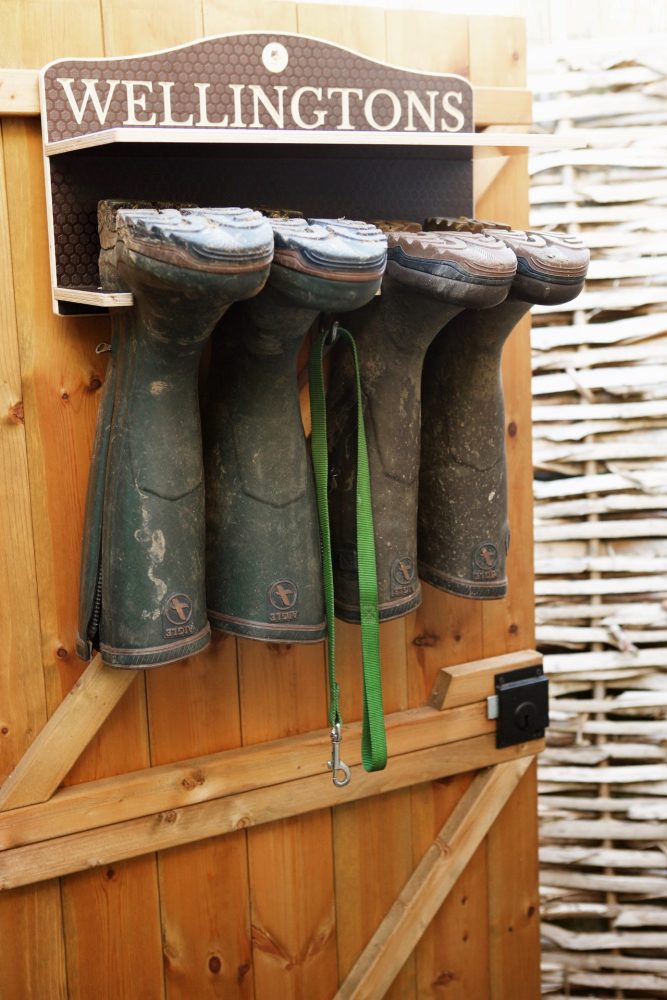 Job 3 – Grow your herbs
If you love cooking herbs are an essential part of your larder.  Growing your own herbs is a great option and far more economical as supermarket herbs can be expensive.
I sell a wonderful Herb planter Box and Herb Planter kit which has everything you need to start a windowsill herb garden.  You can find them here.  I have created the kit to have lovely packaging too, so it is lovely as a gift.
If you want to also grow them in the garden, April is the time to sow in a greenhouse or in a cloche. Herbs such as basil, coriander and dill are quite tender so wait until later in the year to plant out or grow in a sunny position in pots.
More hardy herbs such as chives, thyme and Oregano can be sown straight out in pots or in your veg plot. Although watch out for really extreme wet weather. 
Gardening Jobs for April – What vegetable to sow in April
Hardy Vegetables such as beetroot, turnip, radish, spring peas, broad beans, leek and lettuce, can be grown outside but a sheltered position would be best.
It can still get cold in April so, tender vegetables such as peppers, tomatoes, cucumbers, celery, sweetcorn, french beans and artichokes can be grown now but should be protected and germinated in a greenhouse or conservatory. They must be in frost free conditions until at a stage when they can be planted out approximately the middle of May.
How to achieve Blooms all year round, complete your garden planner.
You can find your own FREE copy of my garden planner here. It is a great way to help achieve Blooms all year round.
How to use your Planner
Take a walk around the garden and make a note of anything in bloom, where you have foliage and where you have gaps. Making notes on your garden planner, taking photos or videos is also really useful.
Now it's time to do some research on what plants will be suitable for April and for the areas that are in need of plants. Make an assessment of the areas that need plants at this time of year making notes of the soil and position, which will then help with your research
Obviously if you are planning for blooms this month, you won't see the blooms till next year, So if you are using my planner try to plan ahead to establish what you can sow or plant earlier to enjoy later in the year. This time next year hopefully you would have worked out a plan and been planting throughout the year.  You will then gradually create your garden to have some element of blooms all year round.  
Cowslip & Primroses both bloom in April giving you a wonderful splash of colour.
Useful Websites
I find these websites really helpful because they help you understand what plants will be suitable where. The Anglia bulb company has a great system where you can select when you want the bulbs to flower, So this is great for planning ahead. Don't forget to check the conditions and suitability of the plant for your garden.
https://www.angliabulbcompany/springhas 
https://www.gardenersworld.com/plants/five-spring-perennials-for-april/
Your final gardening job for April is to complete the part of the chart with the decision on what seeds to add to your shopping list and if the time is right, you can make your purchase and store them in your Seed Box ready.
I hope you have enjoyed reading about the gardening jobs for April & learning how to achieve blooms all year round.  I hope you enjoy doing your jobs and look forward to seeing you in May for our jobs next month. You can purchase any of our Seed Boxes, divider cards and other gardening products in our shop here.
Thanks for reading. 
Liz
.