Get inspired – Here are your gardening jobs for January & learn how to achieve blooms all year round.
Even though the weather in the UK is rather gloomy this month there is still plenty to do outside.
Gardening jobs for January – chitting out your potatoes.
Place individual tubers in the empty egg boxes, making sure the cluster of eyes are facing upwards – this is called the rose end.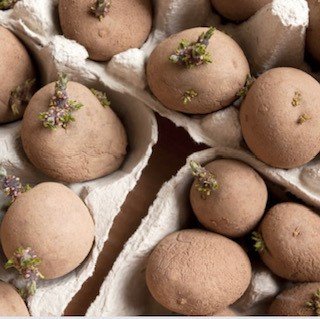 Place the egg box in a cool, light, dry place for about six weeks until they have produced lots of 2.5cm long, green shoots. Avoid putting them in a warm, dark place or you'll end up with lots of spindly white shoots that will snap off easily and wont provide the crop of potatoes you are aiming for.
Gardening jobs for January – Planning what vegetables you wish to grow and then having the fun of purchasing your seeds.
Now this isn't just a matter of buying what you like, although of course you can do it this way.  But if you think carefully about your successes and things that didn't go so well you can improve your crop each year.
Did you compete a record card last year? If so refer to this or try and think what grew well in your garden/allotment.  What you enjoyed eating.  What you had an abundance of, what you needed more of! Things you struggled with and why. – diseases and pests that you may have been plagued by and how you can avoid these.  If you cant avoid them or its a risky crop, is it worth growing that variety? You may like to think of crops that are expensive to purchase in the shops so increase your yield of these this year.
If you wish you had kept a note of all this information, Our front divider cards and garden planner/record card can help you do this. You can find the set here from £9 and it fits perfectly in the front compartment of our seed box. It also has 4 divider cards. This is where you can store your oversized seed packets.
Sort your seeds into date order using your seed Divider Cards. You can purchase some here for only £7 of a set of 3 that fit perfectly into a Chester & Cooke seed box.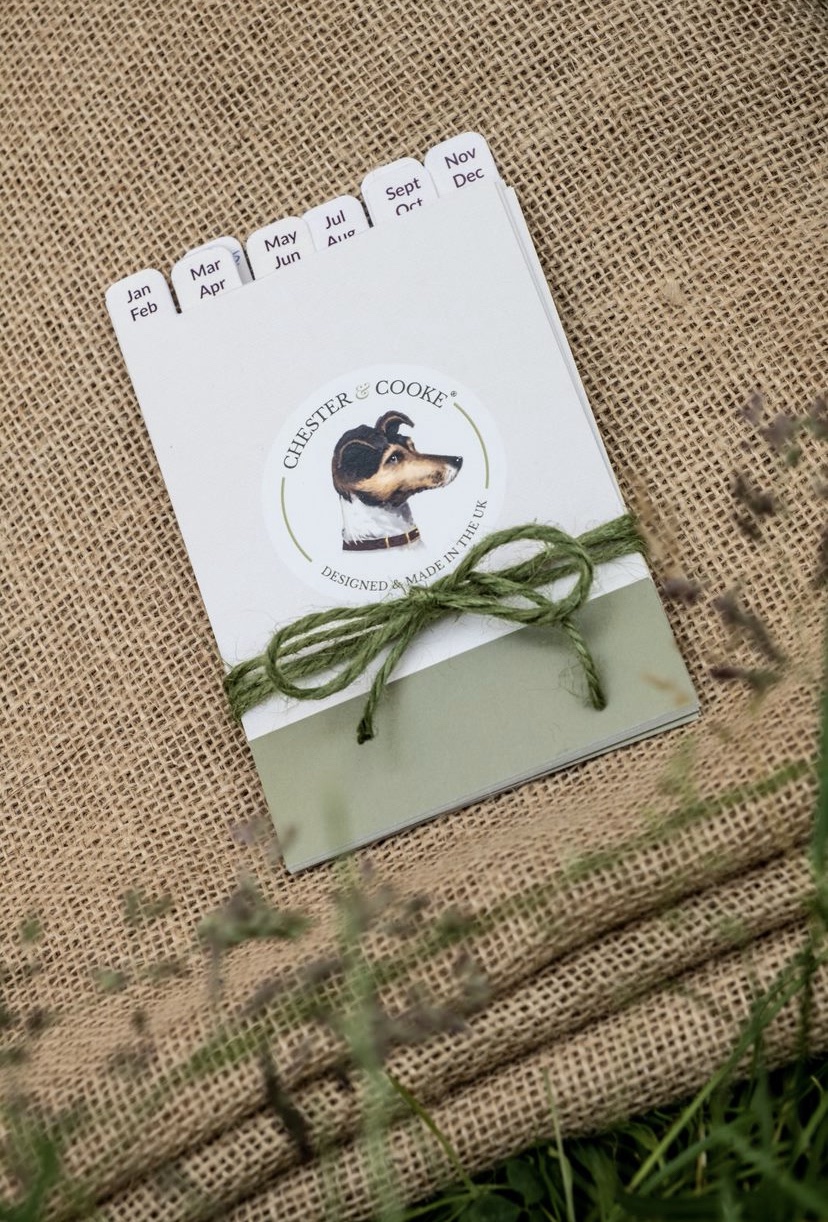 The Chester & Cooke Seed Box can be purchased here and start at £65. With options of personalisation and also gift sets that contain our divider cards and seed harvest envelopes. I must say I  am so proud of my award winning seed box which has been featured in Forbes magazine amongst other places, with gorgeous leather handles, brass fixtures and all wrapped up in lovely packaging.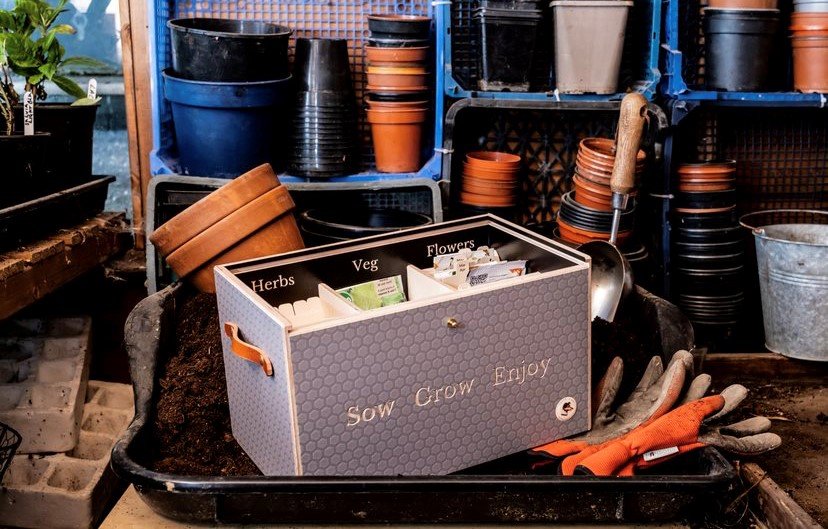 Job 3 – Comb your hand through soft-leaved ornamental grasses to remove dead or dying foliage.
This will then be ready for new growth, and have a healthy start.

Gardening jobs for January – Care for your lawn.
Keep off lawns in frosty weather & sweep up fallen leaves.
It's great to have a wonderful flower beds but we also need to care for our lawn, this really is the icing on the cake when it comes to a beautiful garden.
Frost will not harm the grass but, when its frozen it is brittle and walking on it will cause damage. You will then see this damage in the spring with brown, yellow or dead grass patches.
Wait until the frost has thawed before you walk on it, this is also true for our pets going on the grass too.
If you want to know more you can read this article from Country living magazine.  – Here's why you should never walk on a frosty lawn in the morning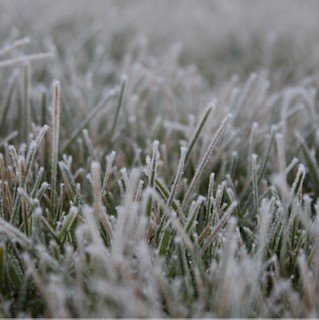 Your 5th Gardening job for January is discovering How to achieve Blooms all year round is all about your garden planner.
You can find your own FREE copy of my garden planner here. It is a great way to help achieve Blooms all year round.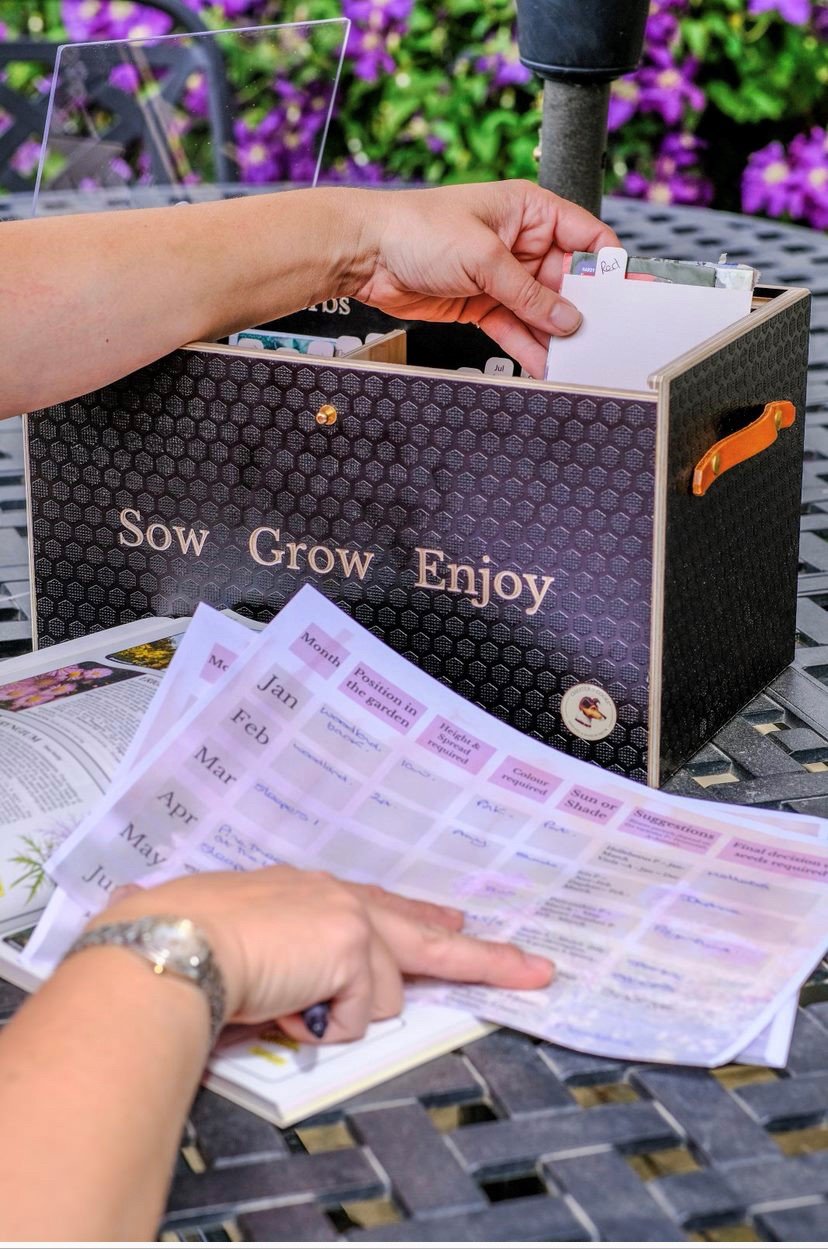 Take a walk around the garden and make a note of anything in bloom, where you have foliage and where you have gaps. Making notes on your garden planner, taking photos is also really useful.
Now it's time to do some research, of what plants will be suitable for January and for the areas that you are in need of plants, are they in shade, do they get any of the sun when if makes an appearance. Is it an exposed position or sheltered? What is the type of soil?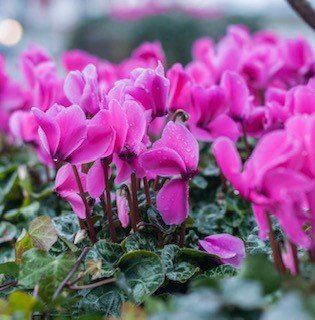 I find these websites really helpful to help you understand what plants will be suitable.
https://hub.suttons.co.uk/gardening-advice/perennial-plants-flowering-times-guide
https://www.fantasticgardeners.co.uk/window-boxes/flower-planting-calendar-uk/
Complete the final part of the chart with the decision on what seeds to add to your shopping list. Depending on the sowing time, you can purchase these now and store them in your Seed Box ready.
I hope you have enjoyed reading about the 5 gardening jobs for January & learning how to achieve blooms all year round.  I hope you enjoy doing your jobs and look forward to seeing you in February for our next months jobs. You can purchase any of our Seed Boxes, divider cards and other gardening products in our shop here.
Thanks for reading.
Liz