I am sure you are keen to learn what reasons there are to use personalised bridle hooks and why its good to have them – other than the obvious reason that they look great and anything to do with horses that is personalised is always on a wish list. So here goes….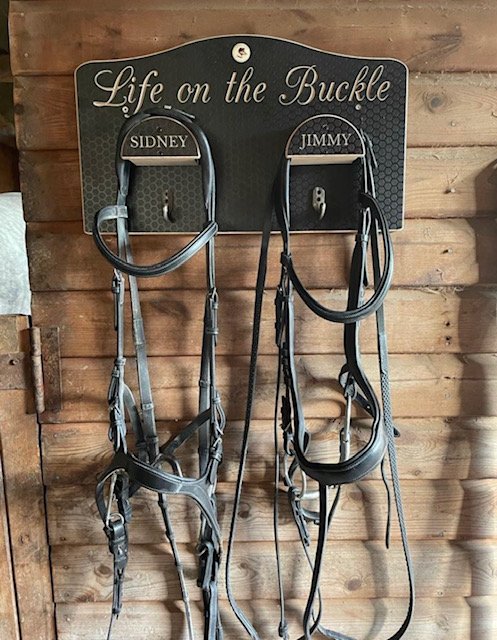 Personalised Bridle Hooks stops your bridle being taken by accident or you getting confused with another livery owners bridle that may look similar.
Ever been to a show and discovered you have the wrong bridle.  I know people this has happened to. Its not a great move. 1. You will have an unhappy friend who may not be able to ride their horse while you are away but 2. Chances are the bridle you have with you will not fit your horse and I'm pretty certain that the bit won't be what your horse is use to, so chances of having a good competition have reduced dramatically. The problem would be easily solved if you can clearly see who's bridle is who's by hanging it on a personalised Bridle Hook.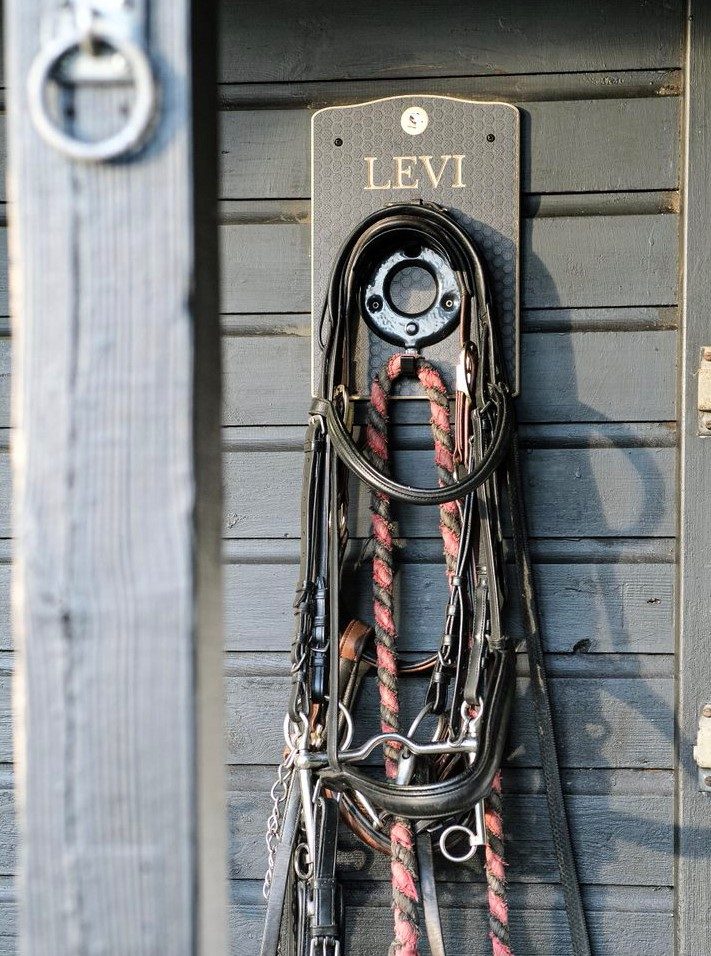 A bridle Hook keeps your precious and usually expensive Bridle in tip top condition.
Hanging a bridle on a thin hook, nail or cleaning hook will cause the leather on your bridle to be bent at a very narrow angle.  This will be bad news for the leather and left stored in this position for long will weaken the leather and cause cracking and creases.
A specially design Bridle Hook is designed to have a nice curve on the headpiece of your bridle distributing the weight of the bridle around the whole headpiece instead of on one stress point. Keeping the leather in good condition. Both our metal bridle racks and wooden Personalised bridle hooks have a lip at the front to ensure the bridle isn't knocked off by accident.
Personalised Bridle/headcollar Hooks are helpful in emergencies.
How many times have you needed to get your horse in, in a rush or something has happened where you need to catch your horse fast or even someone else needs to.
That last thing you need to do is have to hunt for your headcollar.
Having a specific place to hang your headcollar is a very sensible move, so you always know where it is, and everybody else on the yard does too.  So if needed it can be found in a hurry. Helping to reduce time and stress.
Hanging your headcollar and bridles on personalised bridle Hooks keep them clean and dry.
I've had customers tell me that before they hung their headcollar next to their stable using one of my Personalised bridle hangers they use to leave it on the floor or in the feed bucket.  Only to find it had rained and was soaking wet. Yuck I hate a wet lead rope all soggy, yucky and heavy when you are leading your horse in. Get into a routine and hanging it on a Bridle Hook you will never have to have it wet again.  Not to mention what the rain can do to the buckles.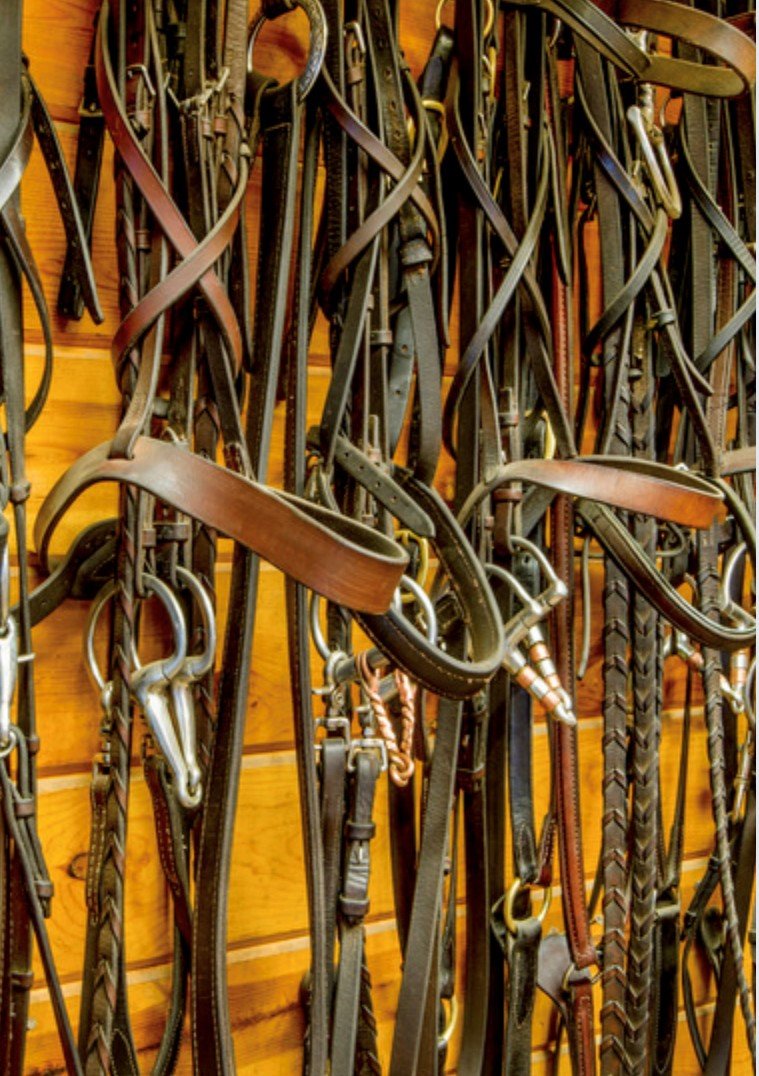 A bridle Hanger stops your bridle getting in a tangle.
Its annoying when you go to use your bridle and its all in a tangle.  If you store it in a box or especially if you have a martingale attached to your bridle or breast plate you have a lot of leather and straps that can quite easily get in a muddle.  To solve that problem is easy, just hang it neatly on a bridle hook. You can either loop the reins through the throat lash taking up the girth holder part of the martingale too, or you could hang the reins on the metal hook of the bridle holder. Either way you will be in much better chance of having your bridle in a position that it wont be in a mess.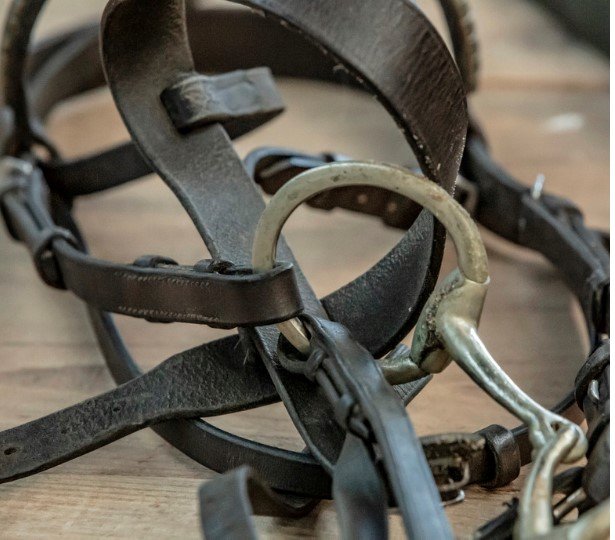 If you are keen to get a Personalised bridle Hook you may be interested in a stable name plaque to match, we do a design your own service with many option to choose from, including the texture of the material, design, font, border, or even add some bling. you can shop stable name signs here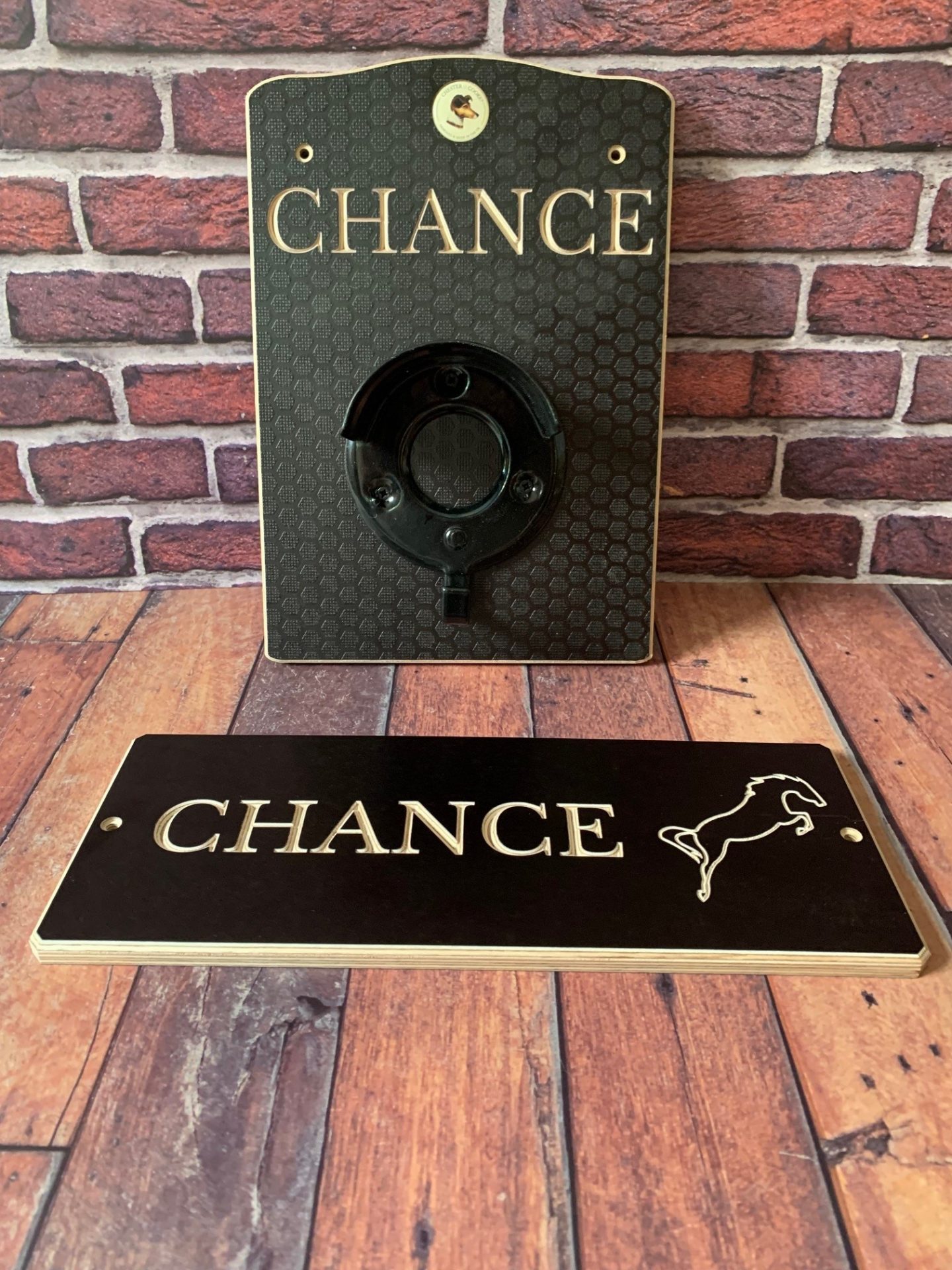 I hope you have enjoyed learning why it is a good idea to have a personalised bridle Hook for your bridle and headcollar. You can shop our multiple wooden deluxe models here where you can personalised each hanger individually and our single wooden version here where the backboard is personalised and also our metal bridle racks here. Where we also personalise the backboard. If you don't want it personalised we also do a standard version with the word bridles.
Happy

Horsing

 around.
Liz X