Well it definitely feels like autumn is here now. The leaves are falling, helped by those strong winds. Here are some essential gardening jobs for October.
Bulbs planting  & Seed Sowing
Hopefully those spring bulbs should have arrived or will soon be on their way to you that you ordered last month.  
This is the time to get planting. Bulbs like daffodils, crocuses and beautiful fritillaries.
I have a nice big net of daffs to dot around, I like to do nice clumped areas so you get a nice display but also like to dot them around the lawn. (Obviously taking care where to plant them  – it's either best to leave a wild area or I like to put them around the edges of a certain area of my lawn.)
Remember to put them on your garden planner so you know where you planted what and hopefully where you will be getting your blooms at what time of year.
If you don't have a planner don't worry you can download one here.
Get the Chester & Cooke Garden Planner
If you haven't got your bulbs yet, I thoroughly recommend the Anglia Bulb company, this is a super website, helping you to find bulbs per the month of bloom. Plus you can select free bulbs as a thank you.  WIN WIN.
There are still seeds you can be sowing in October such as Aquilegia (one of my favourites) Coleus with its gorgeous dark burgundy leaves, and sweet peas.
Need a seed box to store them in look no further.
My seed box now has an option of an alternative to leather for the catch and handle especially for my vegan customers. You can SHOP Seed Boxes and seed box sets HERE.
Shop seed boxes HERE.
As the weather has turned there are certainly a lot of gardening jobs for October.
Greenhouse – Gardening jobs in October
If you haven't done it already, wash down your greenhouse, remove any shading you may have had up and have a good tidy. Getting it ready to store any plants over the autumn and winter months. Remember to remove any leaves from the guttering.
Get prepared with your insulation. The usual way is to use bubble wrap there is a specialist wrap for horticulture and is made to withstand the UV rays. It could last 3 years if you look after it, but eventually will need be to thrown away so not they best for the environment.  There is now a biodegradable bubble wrap on the market, which won't last you as long but wont have the environmental impact as the standard type.
Here is a good article about insulating your greenhouse and a link to biodegradable bubble wrap.

Shed
It's time to clear out your shed and check for any maintenance that is required. Make sure its still waterproof with all the wind and rain.  Check the roof well and replace or repair any felt needed.
Remember to give your tools a good clean and oil.  Check the lock on your shed and make sure its nice and secure.
It's now that you will want to pack away the items such as your garden furniture, plant supports and canes and watering systems. (these can be expensive so you want to look after them and prevent them from freezing and splitting.) Find a nice storage tub so you can put it away safely and tidy in your shed or garage. Any pots that aren't frost resistant, give a good clean and store away too.
Tool Racks
If you don't already have one, give your tools a new home with a tool rack from Chester & Cooke.  These are available in small, medium or large with the middle hanger can hold 2,3,or 4 tools.  You can also store 3 tools on each arm along with your hand tools.  So this is a great space saving tool rack. It can also be personalised so is great for a Christmas pressie if you are already thinking on the C word. You can shop Tool Racks HERE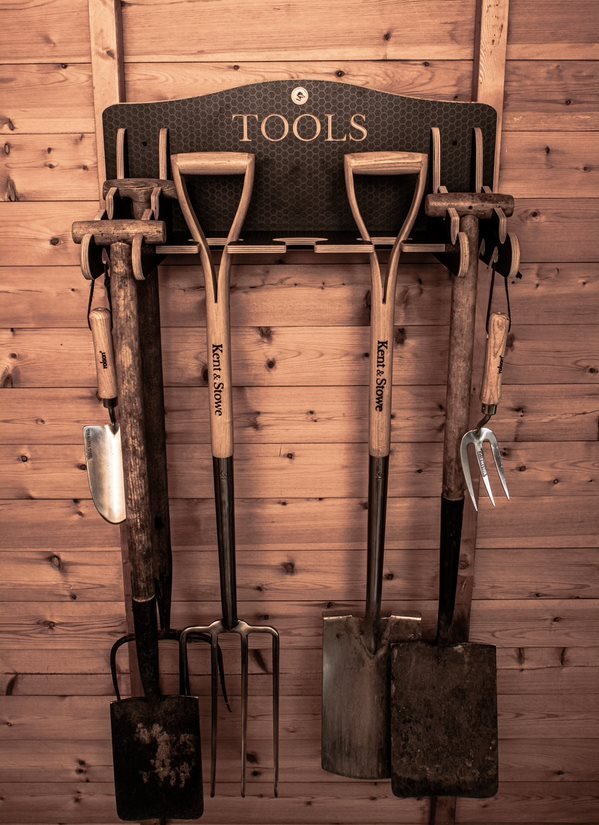 Leaves
As usual in autumn the leaves are everywhere, as gardeners we can make use of these to produce a nice leaf mould which you can use in the future to mulch around your plants and scrubs.  Set up a bin or protected pile where you can store them, to use when they are ready. Try to keep on top of clearing up the leaves, especially from ponds.
Lawn
You can give your lawn a nice feed and weed before the colder weather really kicks in this will help revive it after the strain of the summer months. It may have got compacted over the summer with all the dry weather so now if a good time to aerate it. You can use spike shoes or a fork or depending on the size of the lawn you might want to hire a machine.  This is a nice little guide on how to aerate your lawn.

Pots
It's time to clear out any pots that had summer annuals.  Remember to compost and then give the pots a good scrub before storage.
Get prepared and buy any garden fleece you need to protect your planted pots or plants around the garden from the colder weather and frosts. When the temperature starts to drop, get them wrapped up snug.  This can save you from losing some of those mature beloved plants.  
Gardening jobs for October – Green manure
If you have have a veggie patch or large areas of bare soil this is a good time to sow a green manure crop. If you are new to this it is super easy and basically help replenish the nutrients in the soil and boast its health.  There are lots of different types you seeds you can sow from Forage Rye to the beautiful green manure lupins.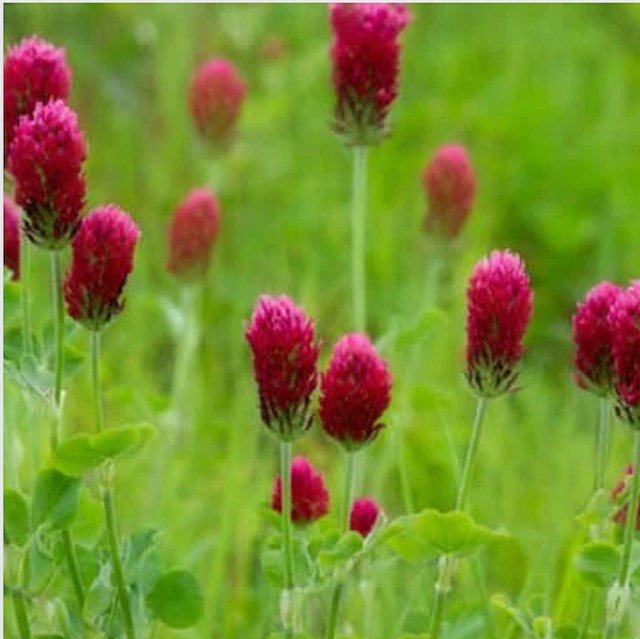 But each seed will help a different soil type.
This is a really good step by step guide to help you through the process.
Wow there are a lot of gardening jobs for October. They feel very much like the transition jobs, but still good fun. I hope you have found them useful. Happy gardening! Liz