I have put together a handy guide of 10 Christmas gifts for dog lovers, to help you with your Christmas shopping, I have put the products in price order so there is something from stocking fillers starting at £6 right up to our personalised dog beds.
It includes reasons why these items are great for dog lovers and your dogs.
1. Great for dogs with dry or sore noses paws or skin
Paw/Nose & Skin Balm- £6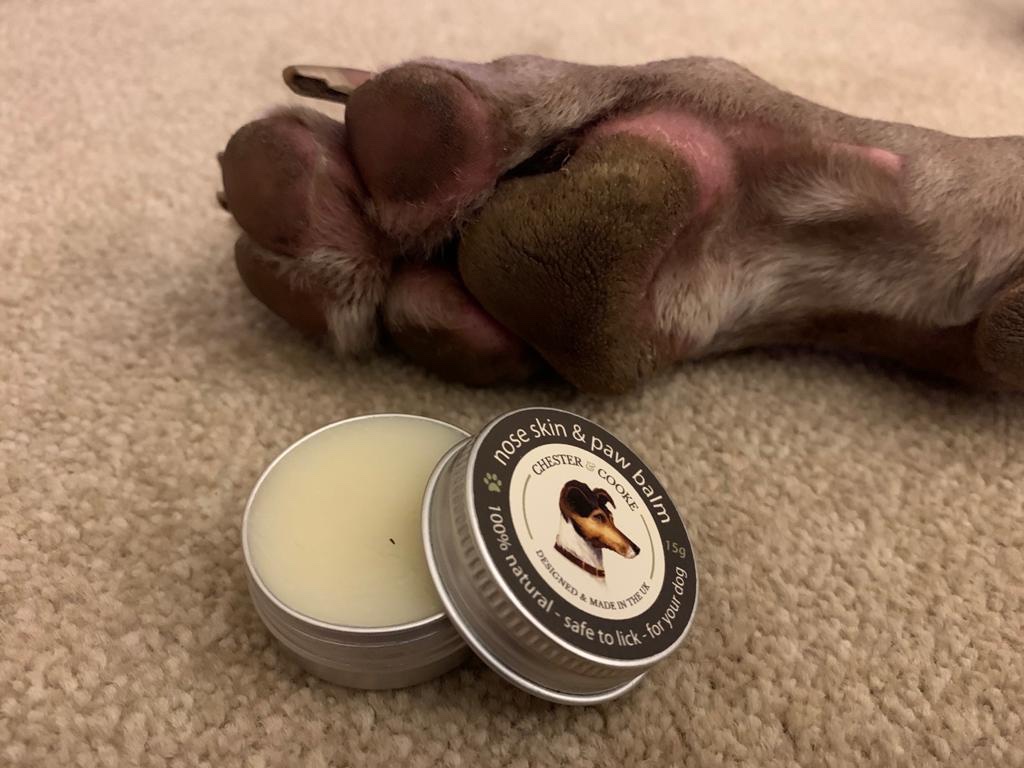 Our moisturising dog balm is perfect for dry or crusty noses, sore and cracked paw pads, calloused elbows, or irritated skin. So is a great addition to your dogs 1st aid kit. This is handmade and all natural with no nasties. Safe to lick and is lightly scented. This is a great item to have on hand if you have an open fire or your dog loves to sleep next to a radiator, Aga or next to the log burner, when it can dry out their sensitive noses.
Our balm is made with hemp, lavender and peppermint oils. Hemp oil contains Omega 3 and 6 and is a great source of high quality nutrients for skin health. It Comes in a 15g tin.
Lets face it, this one should also be in 10 dog products every dog owner should have not just 10 Christmas gifts for dog lovers.  This is a must for any dog with a nose or a paw.  Hee Hee.
But in all seriousness these are a nice little stocking filler for any Dog lover. Get some here.
2. Get a Dog Bow Tie For Christmas day
Dog bow tie £10.99.
Our country style tweed Dog Bow Ties are really cute. Whether it be for Christmas day or they may love to be a posh pup everyday, they are great quality and just slip onto a collar. They are 11cm in length and the maximum collar width they will go on is 2cm.
We do these in 2 colour options, our original Olive tweed or our lovely Navy.
You can purchase them here.
3. For the playful Dog
Christmas dog toy gift set – £14.45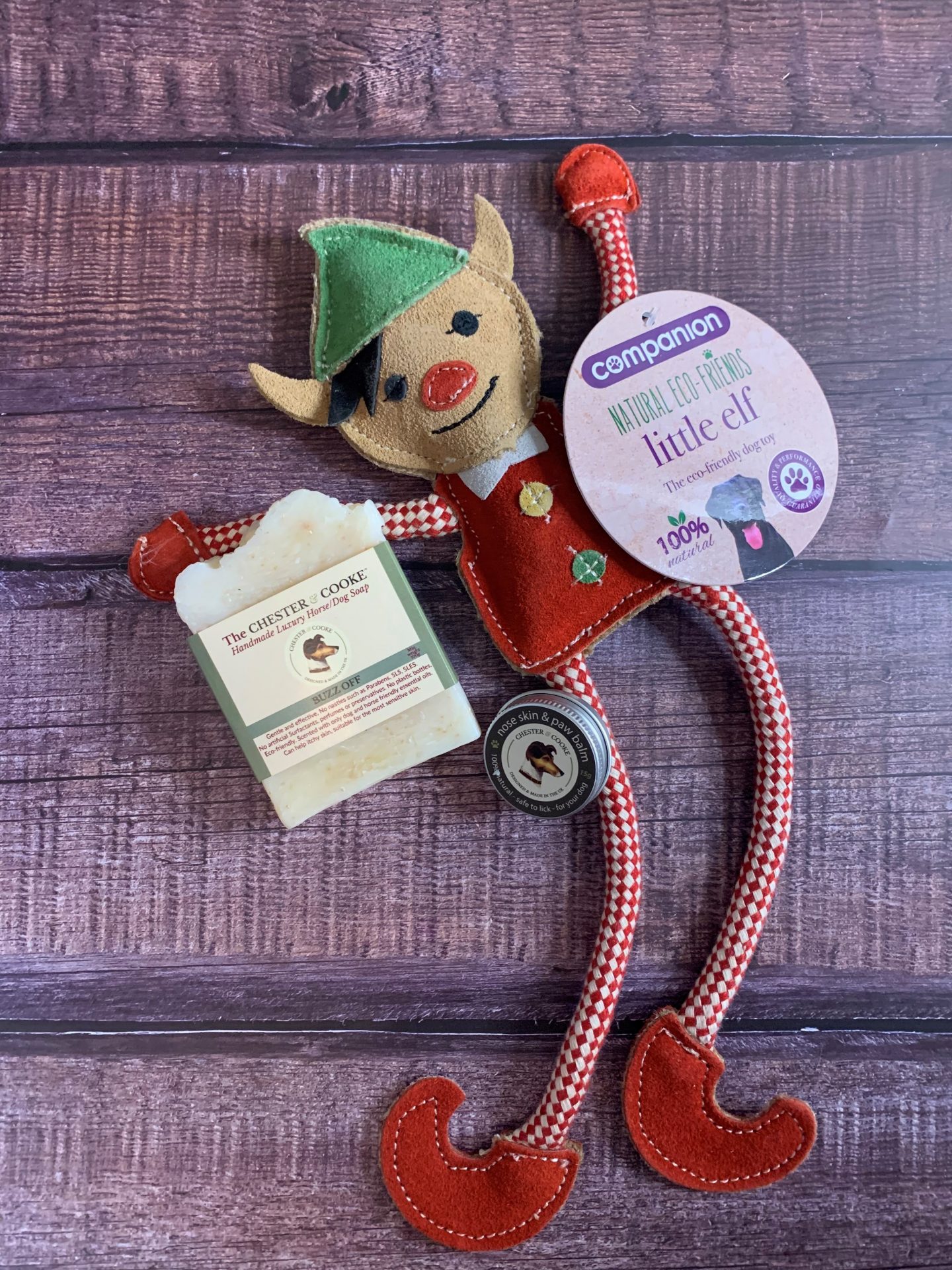 These are a great set to please both pup and owner. Fun festive toys, soothing balm for noses, paws and skin and a gorgeous smelling dog shampoo bar. Only a few left so be quick, this really is a very festive Christmas gift for dog lovers.
What's Included:-
A eco friendly Dog Toy, either a Santa, elf or reindeer. – Please select your choice  – Stocks are limited so you may not receive your 1st choice.
A 15g tin of dog paw balm.
A 100g bar of our handmade dog soap
Get a set for your dog here.
What our customers say about our soap.
4. A gift for a welly wearing dog walker.
Gone for a walk – Boot Jack £21.99
Most dog owners love to take their dog for a walk out in the country.  Mud is a sure thing and wellies are often used. A Boot jack is the perfect gift to help them get their wellies off.
We do 15+ engravings – our best sellers are Boots Off! & our gone for a walk although our grandparents collection isn't far behind.
You can also check out my 5 reasons to use a boot jack blog here.  – I'm sure it will show you how beneficial they can be.
Shop Boot jacks here.
What our customers say…..
5. Number 5 of our Christmas gifts for dog lovers is a gift for the owner who can never find their leads. – Hands up that was me, before I designed and starting making these dog lead hooks.
Lead racks – Personalised or with our standard engraving £25+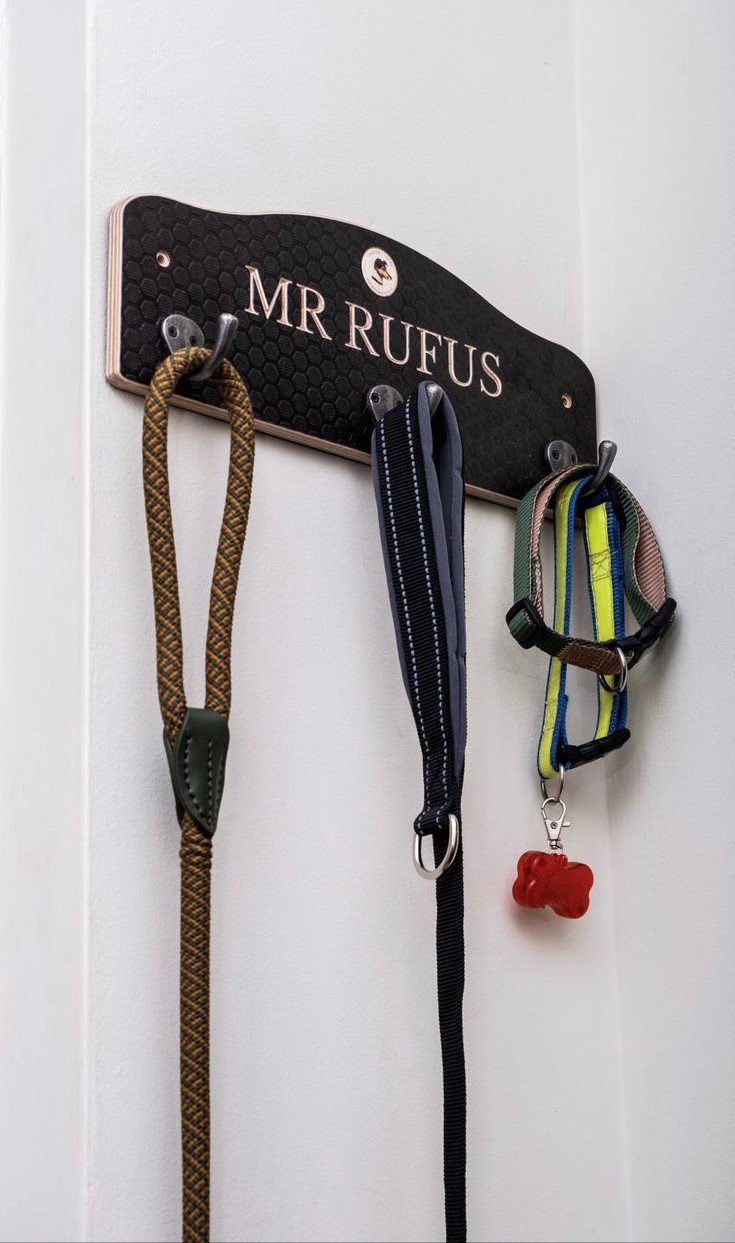 We do our lead racks in various sizes from 2 hooks to 8 and with several different designs and options of hooks or shotgun cartridges. We also do them in horizontal or vertical options, which is more of a space saving design.
Shop lead racks here. Or vertical lead racks here.
6. For the dog that needs a pamper. (or maybe they are a mucky pup)
Dog soap and balm gift set – £22.85
Our Gift set has 1 of each scent of the 100g bars of soap. So you can find your favourite scent/variety before you buy the bigger bar. The set also come with a paw, nose and Skin balm. Perfect to keep your dog in tip top condition. All tied together with a beautiful ribbon.
Total RRP of all products is £26.85 Gift Set price – £22.85 get your here.
7. For the owner and dog
Christmas dog gift set – £38.95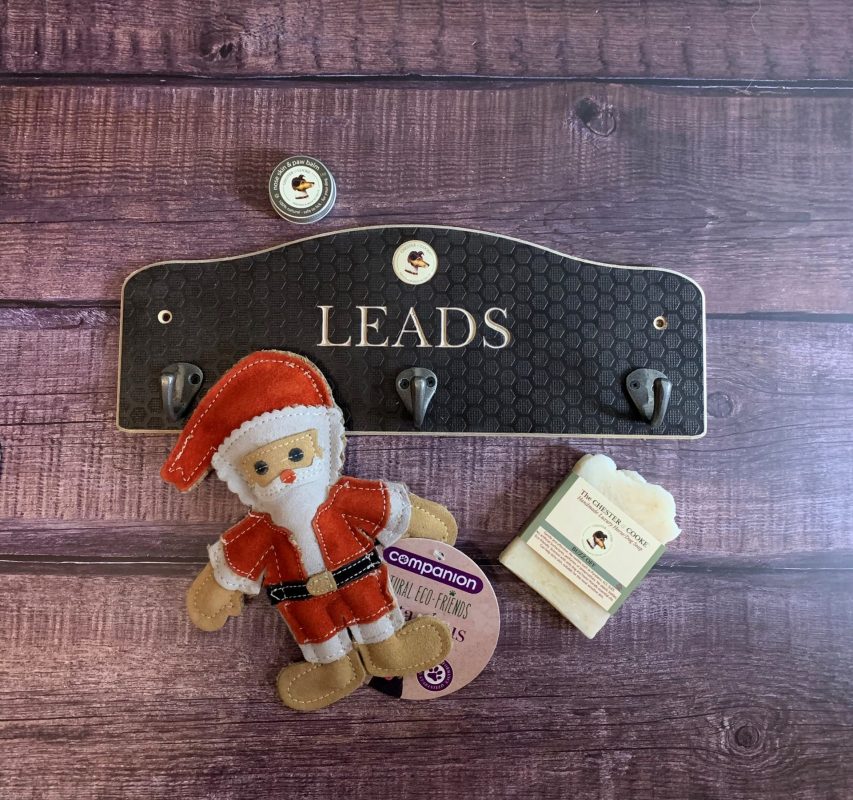 3 Hooks/or cartridge lead rack with your choice of design from Leads, Walkies, Dog coats or Gun Dogs.
A eco friendly Dog Toy, either a Santa, elf or reindeer. – Please select your choice  – Stocks are limited so you may not receive your 1st choice.
A 15g tin of dog paw balm.
A 100g bar of our handmade dog soap
This really is to spoil that dog at Christmas and help out the owner who needs to find their leads. purchase a set here.
8. For the new dog owner
Dog essential gift set. – £47.00 saving £6.90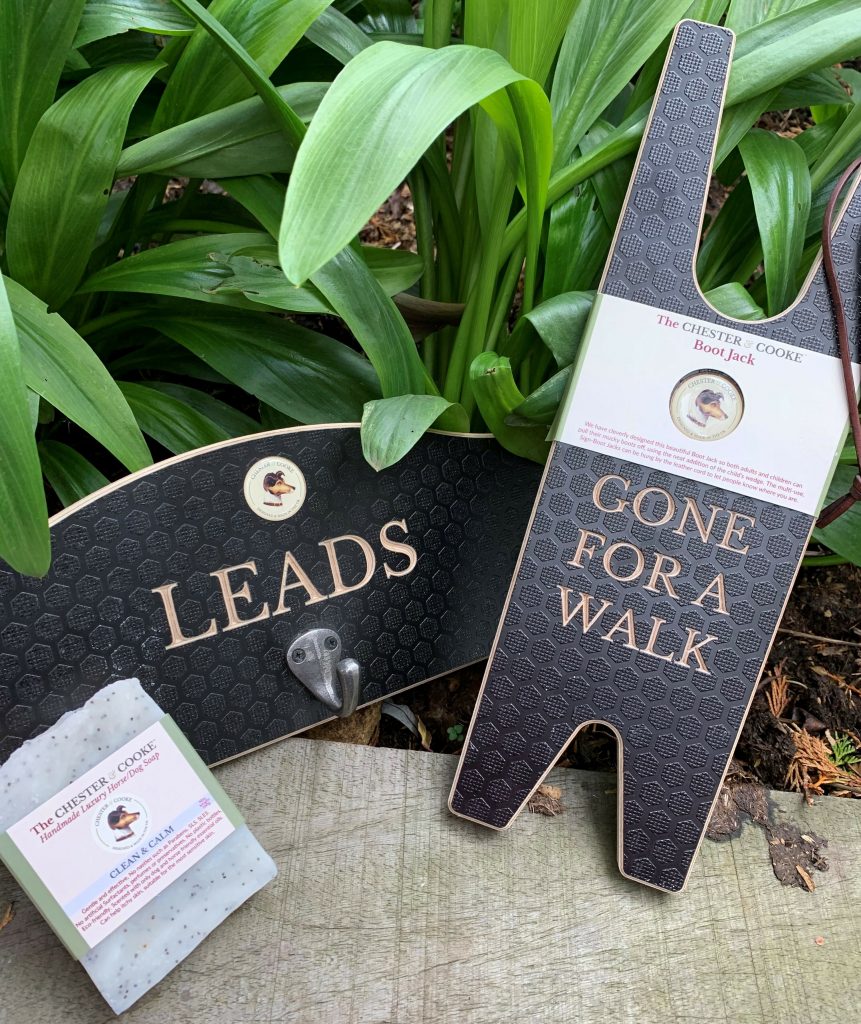 This set contains one of our 3 hook dog lead racks, a boot jack and a 100g natural bar of dog shampoo. – a great gift for the new dog owner.
You can still choose your design on both the lead rack and boot jack – check out our options here.
You could even upgrade to a personalised lead rack.
If I hadn't put my Christmas gifts for dog lovers guide into price order.  I think this set would have come first.  All these items are essentials for dog owners and therefore it would be a real hit of a gift, not only will they be thanking you for helping to get their wellies off each day but they have no excuse to loose their leads again.
9. For the dog walker who needs a home for their wellies
Welly Rack – £55+
These, I must say, are one of my favourite products I have designed, I think because they really look great and have that ability to organise your very important welly collection.  – I have written a blog on 5 reasons to use a welly rack which you can have a read HERE.. As it really does help you keep your wellies in top notch condition.
For a dog walker these are brilliant to hang up their wellies after their dog walk, It is great for wellies to have their own place to call home. You can read about the 5 reasons you should use a Welly Rack to store your Wellington Boots here.
We do a range of sizes from 2 pairs up to 5 pair with the option to have a shelf, which I designed to hold your walking boots or smaller toddler wellies. It also has a very handy utility hook to hang your Boot Jack, or dog leads on.  – Why not make it an extra special gift and select the personalised option.
Shop for welly racks here.
Did you know my WOW moment of 2021 was when ITV 'Love your weekend' asked to feature my welly rack on their show.  – I was beyond thrilled.  Read about it here.
What the Customers say…..

10. For the dog who needs a good nights sleep.
Tweed Dog Cushion – £65+
My favourite fabric is 100% tweed, I love it, it just oozes quality and says 'Country life' to me.  Our dog beds are made from a luxurious robust wool tweed with the stylish Chester & Cooke logo in the bottom right corner. The Tweed dog bed has microfiber sides and base and is filled with carded polyester which gives an even fill and bounces back after use to original shape, its' really soft and comfortable for your dog! The outer cover has a zip which is removable and washable. (cold wash and line dry – NO artificial heat). For easy transportation the Tweed dog bed a carry handle. And they wash really well.
Purchase a luxury tweed bed here.
What our customer say…..
and finally our 10th Christmas gift for dog lovers is for the owner who loves a classy dog bed.
Wooden personalised dog bed – £80+
Our wooden dog boxes come personalised as standard, and come in sizes small to extra large. We have designed it with a lowered front to make it easier as your best friend gets older.
We can sell them on their own, so you can use your own bedding or as a combination with our luxury tweed cushion. (medium and large sizes only)
What our customers say…
Purchase one for your loved one here.
Thank you for reading 10 Christmas gifts for dog lovers,  I hope this has given you some inspiration and help to buy for your dog loving friend or family member.