Yet again Father's day is creeping up on us, before we know if it will be the 18th June and time to spoil that Father figure in your life. Let me help you with a few ideas with my Father's Day gift guide. 
If you are looking for something a bit unique and like to personalise your presents.  Look no further, most of my products can be personalised.  All you have to do is think what you would like it to say.
A Father's Day Gift for a Gardener – From £65
My seed box can either be purchased on its own or as part of a gift set which also includes divider cards and seed harvest envelopes.
The seed box has 3 main compartments engraved with Herbs, Flowers and Veg. Although these sections can be personalised if you require.
The handles are made of leather along with the catch and finished with brass fixings. The engraving on the front is Sow Grow Enjoy – My little moto as this is ever gardeners aim. Although again this can be personalised if you know he would like it to say something different.
The lid is made of polycarbonate, so nice and strong and wipe clean, it slides onto the box to keep all the contents nice and protected.  My standard engraving on the lid is 'Seeds' although this can also be personalised. I usually do this with the persons name or title such as Daddy's Seeds
Shop Seed Boxes Here & Shop Seed Box Gift sets Here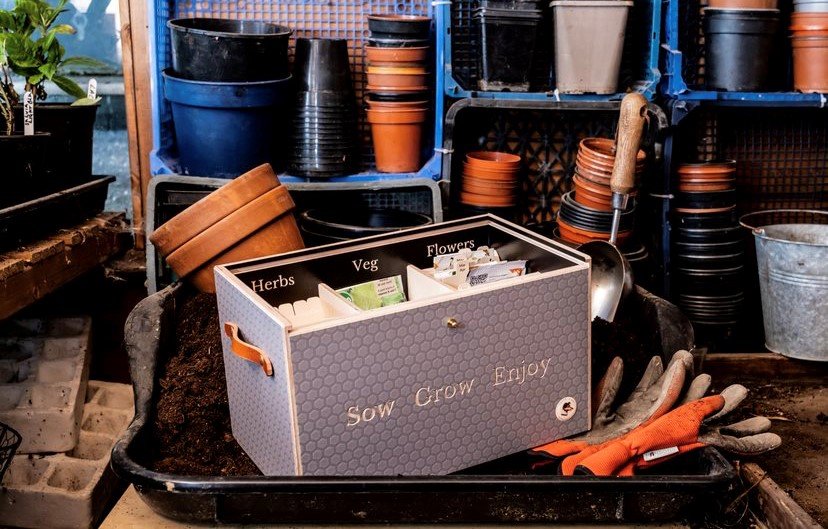 A Father's day gift for a Welly wearer (or someone who needs help to get their shoes/boots off) £21.99
This handy tool is perfect for anyone who owns a pair of wellies. Instead of trying to prize them off on the door step this Boot Jack makes life so much easier. But Its not just for wellies, it helps with walking boots, work boots and shoes too.
I make these with an option of 15+ engravings, including Dad, Grandad and Grandpa or if you can't find something suitable you can always personalise it.
Shop Boot Jacks Here
Shed/Mancave signs – From £22
Does your Dad or Grandad have a special go to place? A workshop, shed, greenhouse or maybe just a room in the house.
You can make him a personalised sign with his name on it. Design it yourself with a design, border, extra wording etc.
Shop Shed signs Here
A Father's Day gift for the DIY Dad – Tool Box – £50
My Tool Boxes are good and sturdy, ready to store all those hammers, screwdrivers and tools. With handy sections to keep everything where it should be and a long solid handle to make carrying it nice and easy. This tool box has several different engraving options, or yet again it can be personalised to make it unique for your Dad.
Shop Tool Boxes Here
A Dog loving Dad – Our Essentials gift set – £47
At Chester & Cooke I sell several products for your dog but this dog essential gift set would be great as a Father's day present.
It contains a 3 hook lead rack, or you could choose cartridge caps instead of hooks, a boot Jack as Dog walkers usually wear wellies.  And a bar of my wonderful handmade dog soap.  Which is definitely essential. If your Dads dog is anything like Chester who loves to find something smelly to roll in. This  comes with a great saving too. Just £47 for all these 3 top quality items.
Shop our Dog Essentials gift set here.
All the products can be purchased separately too and can be found below..
A Father's Day Gift to get those keys organised – £35
Does your Dad always lose his keys?  Well our unique key rack is perfect to help those keys have a home and always be easy to find. My key rack comes with your choice of 5 keyrings. So each set of keys can be easily identified. I have created many options of designs for the keyrings so you are sure to find something that will suit your home.
Shop Key Rack sets here
So hopefully you now have a gift idea.  What about a card – I think writing a personal card with true loving words full of appreciation, feeling, thanks and love is so special and will really touch the heart of the Father figure in your life.
This website may help you give a few ideas of messages you can adapt to show how you feel, to make your card really thoughtful. Check it out here –  Good house keeping
I hope this Father's day gift guide has given you some inspiration and helps you get prepared to spoil the Father figure in your life, whoever that may be. You can visit my website here so you can check out our full product range.
Thank you for taking the time to read this guide.
Liz