Get  inspired – Here are your gardening jobs for March.
Spring is officially here, and my garden is doing a merry dance. With tulips, daffs and bulbs shooting up everywhere. The snowdrops are in full swing along with the crocuses. The nights are pulling out and the birds are singing to me all the time. I love it.  It really does lift your mood. However we have to be vigilant because we have had snow in March before.
Gardening jobs for March – planting your onions.
Sets
Onions can either be grown from sets (mini bulbs) or via seed– sets are usually the easiest way to grow them because they are less likely to be affected by disease and it's also the fastest way to grow them. They will also produce an earlier crop.  However, they are more prone to bolting (when a flower is produced instead of a bulb). Make sure to purchase the heat treated varieties to help to prevent this.
Seeds
Growing onions via seed is cheaper approx £1.80 per packet for 300-500 seeds. These can last for 2 years therefore you will certainly get more for your money but they will take longer to grow and you will have to weigh up the space in your greenhouse.  I'm sure you have plenty of other plants growing from seed.
 Seeds are usually planted in spring, from mid-March to mid-April. Some varieties are suitable for planting in October to mid March – these are less sensitive to cold, which would otherwise cause bolting.
Onions have a short root system, so improving the soil with well rotted manure will help to improve the quality of your onion harvest.
If you need guidance on how to plant them you can refer to the fabulous Gardeners world here
If you decide to go down the route of seeds rather than sets, remember you will need somewhere to store your seeds.  Like our award winning Seed box which can be purchased here and starts at £65. We have options of personalisation and also gift sets that contain our divider cards and seed harvest envelopes.  Choose from our brown box or our grey option. – Did you know Alan Titchmarsh has one of my seed boxes, so you know you will be in good gardening company.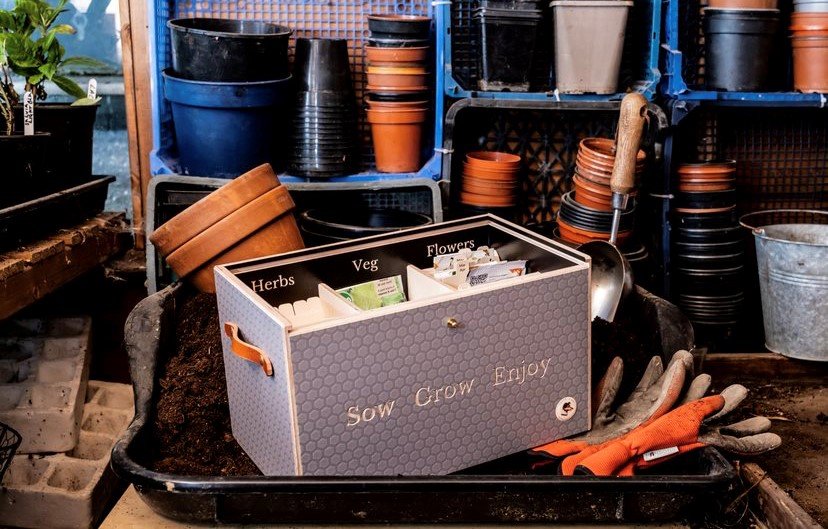 Sort your seeds into date order using your seed Divider Cards because this is a great way to be on top of when to plant your seeds, and avoids missing your sowing window. You can purchase some here for only £7 of a set of 3 that fit perfectly into a Chester & Cooke seed box.
Gardening jobs for March – lift and divide any perennials.
If you have plants in your garden that you have had for at least 3 years these will be perennials. The plants can keep growing and spreading, often overtaking other plants and crowding your beds. These perennials will benefit from being divided and replanted elsewhere.  This will help to maintain a healthy plant and get these plants and blooms back into full vibrancy. I would suggest doing this every 2-3 years but it can be done more often if required or if you want to increase your number of plants. (which is a saving rather than trips to the garden centre.)
Job 3 – Top dress your beds and containers and pots with compost.
Now is the time to spread a layer of compost to add those extra nutrients to your soil. This is such an easy way to give your plants that boost.  Throughout the growing seasons microbes will break down the compost and provide a steady supply of goodness for your plants.
Problems with sunken soil
Have you got any pots or containers where your soil has sunk? Over time as compost and soil is broken down by microbes the air gaps in the soil will reduce and the soil will become compacted.  This can cause a problem as all potted plants need:
Drainage
Aeration
Moisture Retention
When a soil mix has these 3 qualities, the plant will grow beautifully, however as soil sinks and compacts the aeration of the soil will reduce, limiting the amount of oxygen to the plant, its ability to retain moisture will also decrease which will cause problems with watering, as the water will either drain away instantly or sit on the top of the soil and rot the plant at its stem.If the soil cannot retain moisture the plant can not absorb any nutrients. Ultimately the plant will become unhealthy. If the soil reduction isn't too bad, top dressing my help until a time comes when you will need to repot your plants to boost its drainage, aeration and moisture retention again.
We recommend peat free compost. check out my blog . Why Should I Use Peat Free Compost? to find out why and to discover a few different types of peat free alternatives.  One of my favourites is coco coir compost.
I would also recommend adding either Perlite or Vermiculite to the compost to help with moisture, drainage or aeration. They both have different properties so it will depend on the situation and the needs of your plants as to which is best. If you need some help this article from Horticultural magazine is really helpful for the different uses.
Plant your summer flowering bulbs such as Lilies.
Another one of your gardening jobs for March is to get planting. Because with a little forward planning, you can enjoy bursts of colour from bulbs almost all year round. Most grow extremely well in pots and many are attractive to pollinators. For the best results, buy plenty and make a real impact, they look best planted en masse. This leads us very nicely onto our next job. Completing your garden planner to ensure your planting is organised and you are forward thinking.
As you may be aware, in June 2022 Lilly my mare had a foal, who I have called Mariposa (as it is a type of Lily) . I am so excited to try to grow these this year and have put them in my planner as they will be for autumn planting. They will be a challenge as they are not native to the UK and love drier conditions but I have a place in mind, so I will let you know how I get on.
How to achieve Blooms all year round, complete your garden planner.
You can find your own FREE copy of my garden planner here. It is a great way to help achieve Blooms all year round.
How to use your Planner
Take a walk around the garden and make a note of anything in bloom, where you have foliage and where you have gaps. Making notes on your garden planner, taking photos or videos is also really useful.
Now it's time to do some research on what plants will be suitable for March and for the areas that are in need of plants. Are they in shade? do they get any of the sun when it makes an appearance? Is it an exposed position or sheltered? What is the type of soil?
Obviously if you are planning for blooms this month, you won't see the blooms till next year. So if you are using my planner try to plan ahead to establish what you can sow or plant earlier to enjoy later in the year. This time next year hopefully you would have worked out a plan and been planting throughout the year.  You will then gradually create your garden to have some element of blooms all year round. To achieve blooms in your garden during March that you have missed planting for this year you can look at bedding plants such as annuals. For a splash of colour for the season but using the planner you will be ready to plant in the autumn ready for March next year.
Crocuses & Cyclamen both bloom in March giving you a wonderful splash of colour.
Useful Websites
I find these websites really helpful because they help you understand what plants will be suitable where. The Anglia bulb company has a great system where you can select when you want the bulbs to flower, So this is great for planning ahead. Don't forget to check the conditions and suitability of the plant for your garden.
https://www.angliabulbcompany/springhas 
https://www.fantasticgardeners.co.uk/window-boxes/flower-planting-calendar-uk/
Your final gardening job for March is to complete the part of the chart with the decision on what seeds to add to your shopping list and if the time is right, you can make your purchase and store them in your Seed Box ready.
I hope you have enjoyed reading about the gardening jobs for March & learning how to achieve blooms all year round.  I hope you enjoy doing your jobs and look forward to seeing you in April for our jobs next month. You can purchase any of our Seed Boxes, divider cards and other gardening products in our shop here.
Thanks for reading. 
Liz