I have put together a handy guide of 7 equestrian gifts for horse lovers in price order so there is something for stocking fillers starting at £6.95 right up to our our gift sets and wall mounted welly racks.
It includes reasons why these items are great for horse lovers and their horses.
Great for a horse that needs a spruce up for Christmas Day
All natural Horse Soap- £6.95 (can be used on dogs too.)
We use Coconut oil as our main ingredient which makes a high foaming and highly cleansing soap. I kid you not this lather's so well it is amazing. I find it so easy to wash my horse's mane, because it is in your hand you can really scrub with it. Fabulous for getting right into the base of horse manes and tails and also scrubbing white socks. It is perfect for those muddy muzzles, precious paws and of course those dreaded patches of fox poo all dogs seem to love and Its great for greasy coats.
We do these in 2 sizes 100g and a 200g soap on a rope
These are a nice little stocking filler for any horse lover. Get some here.
For the Horse who needs a name on his door. This is a fab equestrian gift for horse lovers
Personalised stable name plaques – Design your own – £22+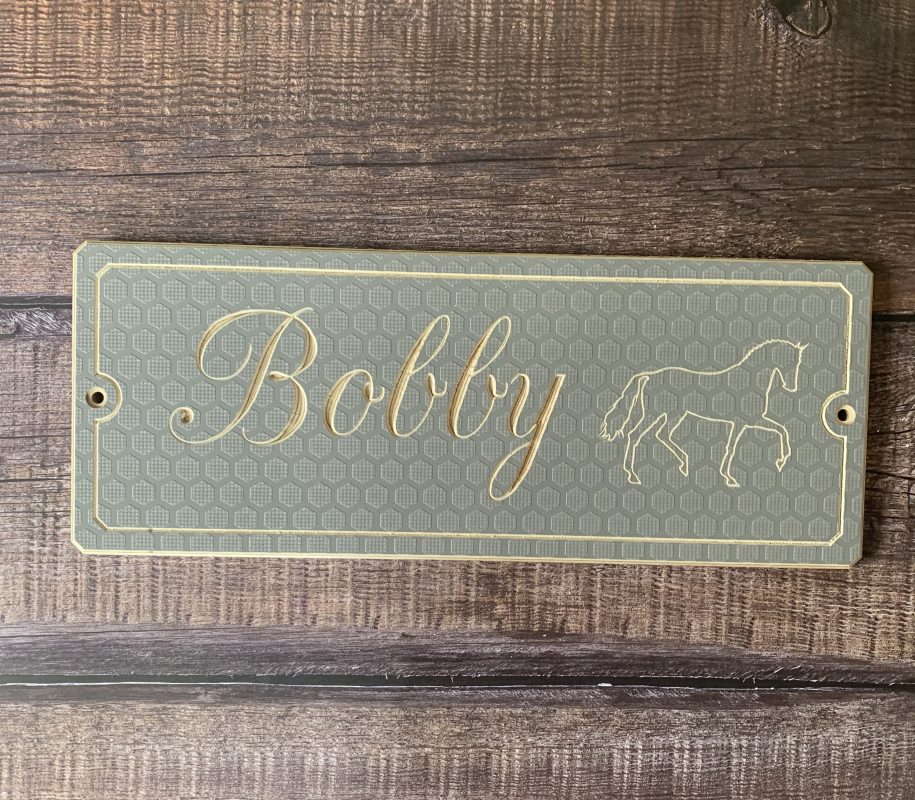 Choose from our options to create your very own unique name plaque that will look fantastic on your horses stable door. Choose the texture, the design, if you want a border or not, the font and colour, you may even like to add some diamantes.
You can purchase them here.
What our customers say…
Bakerl11 on 19 Aug, 2021
5 out of 5 stars    
Such a beautiful stable sign, I love how elegant these look.
– A gift for a welly wearing equestrian.
Horse Lover or Head Groom  – Boot Jack £21.99 A great Practical gift for any horse rider.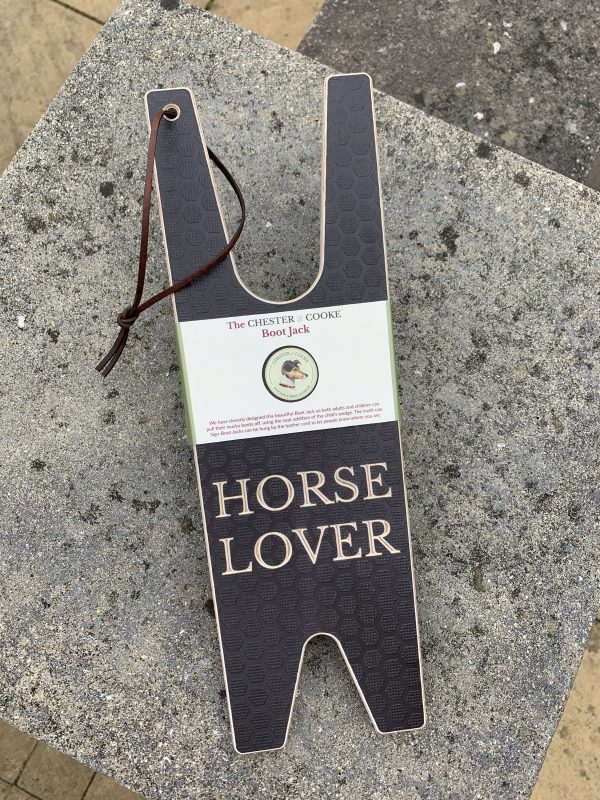 Most horse owners are up to their knees in mud this time of the year.  Mud is a sure thing and wellies are often an essential bit of kit for any owner.  A Boot jack is the perfect gift to help them get their wellies off.
We do 15+ engravings – our best sellers are Boots Off! & our gone for a walk although our grandparents collection isn't far behind.
You can also check out my 5 reasons to use a boot jack blog here.  – I'm sure it will show you how beneficial they can be.
What our customers say….
Elizabeth Dyer on 22 Jun, 2021
5 out of 5 stars    
Fantastic personalised boot jack. My papa loved it. Wonderful communication too xx
Kerry on 14 Jun, 2021
5 out of 5 stars    
Great item, very sturdy and solid. Can't wait for the kids to give it to Grandad this Fathers Day.
aprilnew29 on 13 May, 2021
5 out of 5 stars    
The boot jack arrived within 2 weeks from the UK to Australia (during COVID). I couldn't be happier with the style and the quality of the product. The dog emblem in the centre just sets it off, it brings a smile to my face every time I use it. The leather strap at the top is a great idea to enable it to hang it on a hook out of reach of the Labradors!
4. A real treat for your horse.
Name plaque and soap on a rope gift set £34.95 saving £6.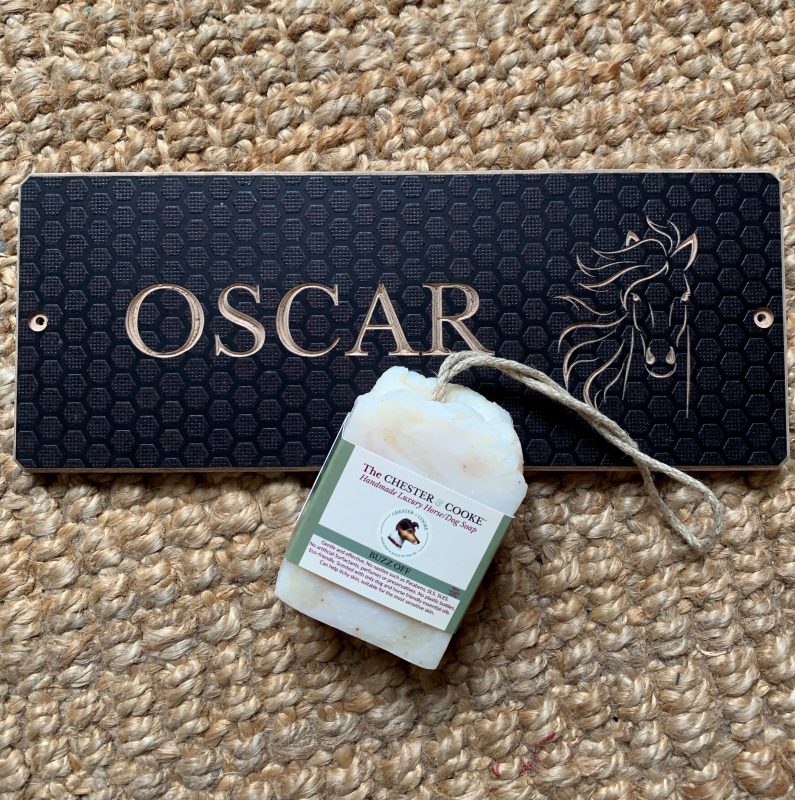 This Gift set comprised of a 'design your own Name plaque' and a Soap on a rope, varieties subject to availability. With so many options to choose from from our design your own name plaque you will surly find something that will suit your horses personality. Plus this set gives you a great savings and therefore a natural shampoo pamper treat is just the thing.
5 For the rider who loves Personalised items and needs a place to hang their bridle.
Personalised Bridle hook – £35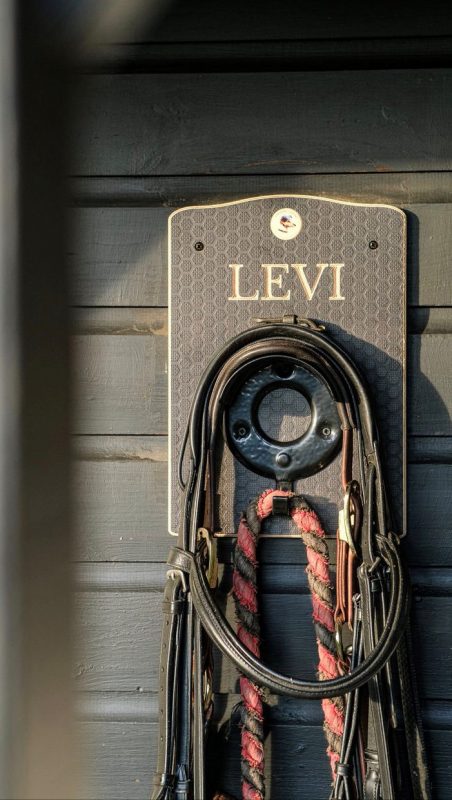 The Chester and Cooke bespoke single wooden wall mounted Bridle rack is made from natural materials. Our stylish Bridle/Head Collar storage rack design comes with personalised engraving. Its water repellent and wipe clean. I love having this outside my stable for when I'm tacking up. This is really quite a unique gift.  Get yours here.
For the horse and rider a bit of everything. – I just love this set.
If I wasn't putting my equestrian gifts for horse lovers guide in price order, I think this would be top. Every horse lover loves to treat their horse so the name plaque is perfect, but the extra treats for the rider are brilliant, bamboo socks are soooo soft, I just love them, great under your half chaps or riding boots.  And as its winter we also want to encourage riders to be safe with the option of a Hyviz bonnet or a Hyviz tail wrap.
The Chester and Cooke  Equestrian gift set, is a great Christmas pressie for  horse owner, £45.50 saving £8.94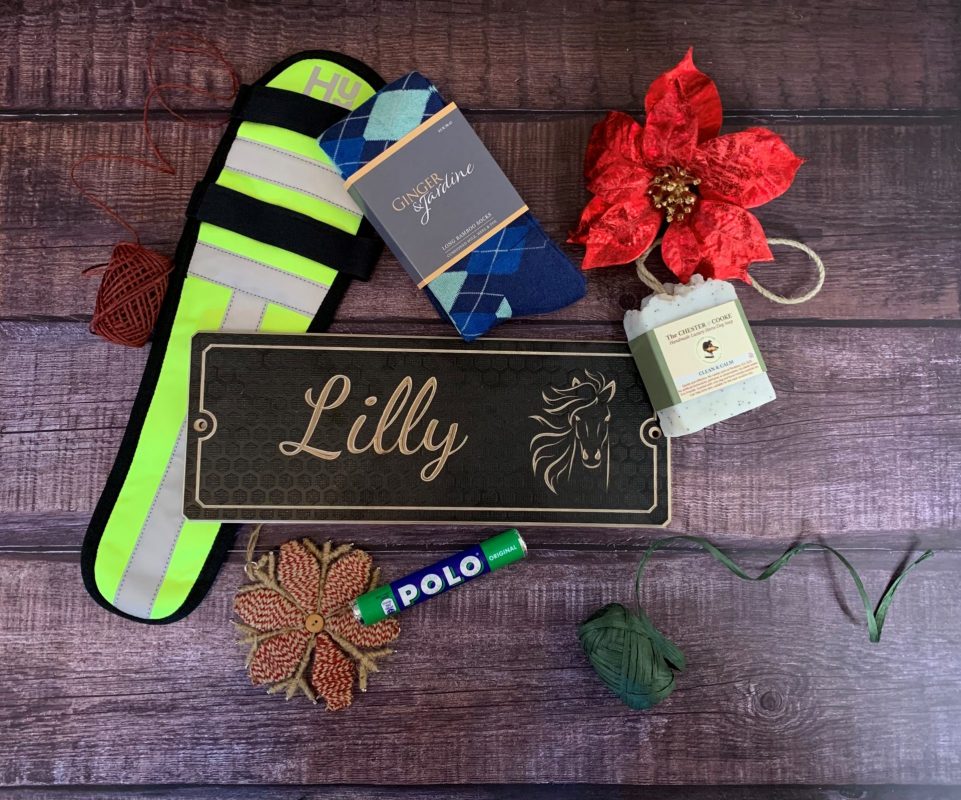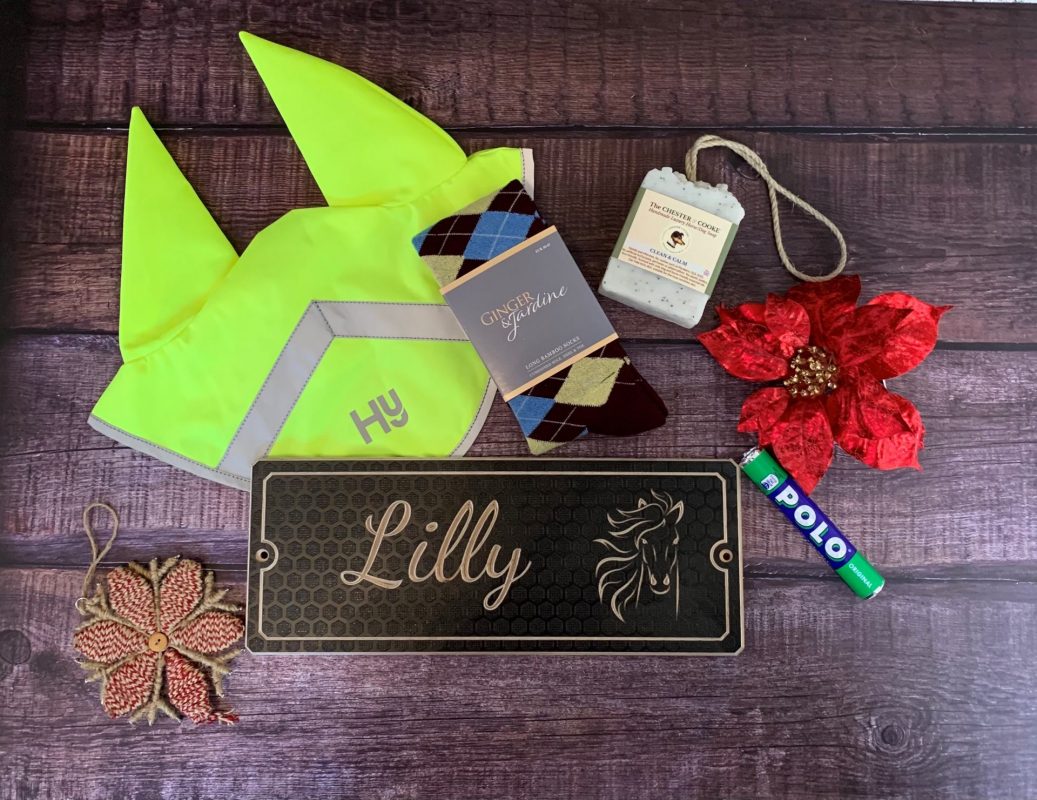 including
a hi viz item, either a bonnet or tail wrap
bamboo equestrian socks from Ginger & Jardine,
200g soap on a rope.
A personalised stable name plaques, choose from our options to create your very own unique name plaque that will look fantastic on your horses stable door.
Polo's
£45.50 saving £8.94 get your set here.
For the rider who needs somewhere to hang their wellies a perfect equestrian gifts for horse lovers
Welly Rack – £55+ – Purchase a welly rack here.
These, I must say, are one of my favourite products I have designed, I think because they really look great and have that ability to organise your very important welly collection.  – I have written a blog on 5 reasons to use a welly rack. As it really does help you keep your wellies in top notch condition.
For an equestrian these are brilliant to hang up their wellies after being down the yard, It is great for wellies to have their own place to call home.
We do a range of sizes from 2 pairs up to 5 pair with the option to have a shelf, which I designed to hold your Jodhpur boots or similar or smaller toddler wellies. It also has a very handy utility hook to hang your Boot Jack, or dog leads on.  – Why not make it an extra special gift and select the personalised option.
Did you know my WOW moment of 2021 was when ITV 'Love your weekend' asked to feature my welly rack on their show.  – I was beyond thrilled.  Read about it here.
What the Customers say…..
Joanne on 11 Dec, 2021
5 out of 5 stars    
This is a beautiful piece of craftmanship. We had it personalised and it is now sitting outside in pride of place. We live in a rural area and our wellies are on and off daily! You can erect it inside or outside. The personal name gives it a nice touch and if likes us you don't have a number on your house its nice that our name is displayed so it helps with deliveries! It was sent with a lovely message from the maker and to be honest I squealed with delight when I saw it. It was very easy to put up. If you want to buy something different with a personal touch this is it. It cost just over £150.00 (so not cheap) but its something I know will last a long time and will always be well loved and used 🙂 thank you!
23 Sept 2021
I'm over the moon with my Welly Rack
I'm over the moon with my Welly Rack. I saw it on the Alan Titchmarsh show and wanted one. I've had it personalised and the quality is superb. The delivery was quick and no hassle. Thank you Liz and looking on website to see what else I can buy 😀
And just to give you a sample of our customer service this is a review I receive which really did make me cry.
6 Sept 2021
Invited
Wonderfully Personal Customer Service
Fantastic products – I wish I had found this seller years ago. I love the fact that the service you receive is so personal. From the lovely handwritten note in with my parcel to the emails received. Brings a smile to my face dealing with a company that truly cares about their customers. Would definitely recommend.
Thank you for reading my equestrian gifts for horse lovers guide I hope this helps you find that perfect present.  From our smaller items like our all natural (no plastic) soap to our great gift sets. And very popular name plaques.  The horse rider in your life will love it.
Thank You
Liz